April 26, 2014 - 12:37am
BID honors two Downtown businesses and key volunteers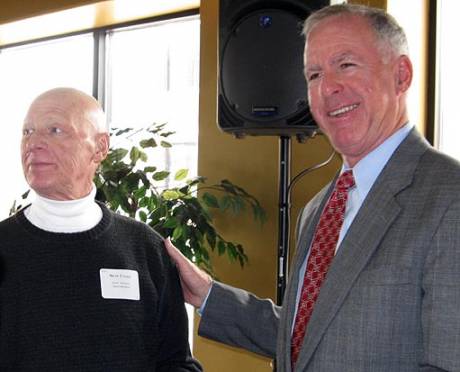 Story and photos by Dan Fischer, WBTA.
The Batavia Business Improvement District (BID) honored two local businesses on Friday with its "Spirit of Downtown Business Award."
The new business Spirit award was given to The YNGodess Shop. Proprietor Christine Crocker received the award with her son, Ben, at her side.
Accepting the Spirit award for the Established Business of the Year was Gregory Gluck, proprietor of Alberty Drugs.
Also recognized for their volunteer efforts on behalf of the BID were Steve Coraci and Beth Kemp.
The BID was created in 1997 creating a core group of Downtown property owners and city officials to organize a formal Downtown management association. Today, the BID is comprised of 143 properties that pay a total annual assessment of $120,000 and the City of Batavia's contribution (for capital projects) is $41,300 to fund the organization.
The BID will meet on Tuesday to elect a new slate of officers.