March 10, 2013 - 8:16pm
Blues victory over Jets in men's hockey has special meaning to O'Geen family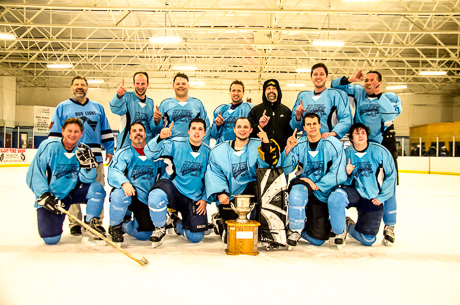 Through 36 years in the league, the entire history of the league, Charlie O'Geen has never held the Batavia Men's Hockey League Championship Cup.
Today he did.
His son, Brian, a teammate, along with other teammates on the Genesee Orthopedic Blues, carried the cup to him after their 4-3 over the Max Pies Jets.
O'Geen is layed up in a hospital in Buffalo.
"I so wish he could be here," Brian said. "I was in tears last night  because I was afraid this was going to happen and he wasn't going to be here."
The Blues jumped out to a 4-0 lead. The Jets fought back, but could never notch that final goal to tie it up.
"We got on them early," said Jeff Rauter, standing in for O'Geen as team captain. "We played a little physical. They like to play physical, so it makes the game go faster. They've got some good players on the team and we just contained them."
To purchase prints of the photos, click here.