April 9, 2014 - 7:15am
BOCES culinary students champs again in regional competition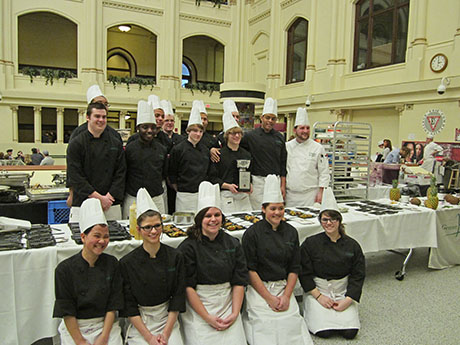 Press release:
Culinary Arts students from the Batavia Career and Technical Education Center brought home the Culinary Cup for the third consecutive year! 
These students took first place in the eighth Annual Taste of Culinary Competition hosted by the American Culinary Federation of Greater Buffalo, New York. This event was held at Erie Community College's City Campus. 
Chef Nathan Koscielski's culinary team of 14 students consisted of morning and afternoon juniors and seniors. The team competed against other student teams from other colleges, high schools and BOCES. 
Last year, the team brought home the Culinary Cup; two years ago, the team tied for second place; and three years ago, the team took third place.
Jarrod Wall is a first year Culinary Arts student from Notre Dame Academy.
"This was an awesome experience and it's the third year in a row that our school has won first place.  We got to work as a team and see firsthand how professional chefs work, " Jarrod said.
Chef Koscielski described his students as talented and skilled.
"Our score was only two points away from being a perfect score and was higher than scores earned by teams that entered the professional division including restaurants and country clubs. The competition was a tremendous educational experience for our students.  It was exciting for our team to compete and win for the third time," he said.
The team served guinea hen confit with Parisienne gnocchi, roasted red and yellow pepper coulis and pignoli gremolata served with a punch made of black currant and pineapple juices, coconut milk, and fresh mint.