June 9, 2014 - 6:34pm
Body of fallen Iraq War vet returning home today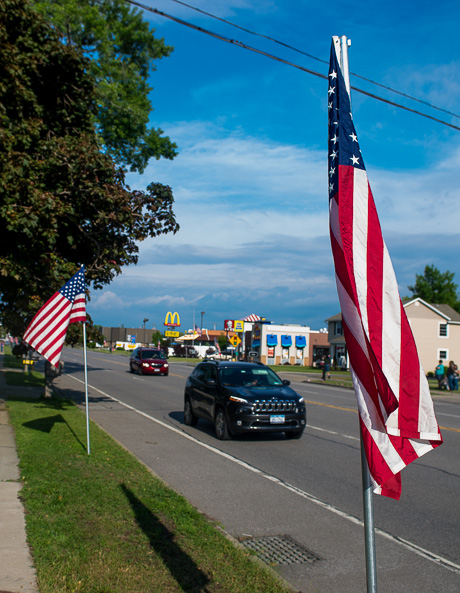 Flags have been placed on both sides of West Main Street Road, Town of Batavia, adjacent the Michael S. Tomaszewski Funeral & Cremation Chapel, to honor Sgt. Shaina Schmigel, a paratrooper who died during training last week.
Schmigel is a decorated Iraq War veteran.
Born in Batavia, Schmigel went to high school in Medina.
The Patriot Guard escorted her casket into Genesee County and then to Medina. The procession is expected in Batavia around 7:15 p.m.
Rita Towner helped organize an effort to use flags from Redfield Parkway to line West Main Street. She's asking that any residents along the route today and Wednesday (when the funeral procession will travel from Batavia to Corfu) to put out any flags they have in the parkway or along the roadway.
Below is a video from Route 77 in Pembroke that was submitted by a reader.
UPDATE: Also participating in the flag placement: Kathy Owens, Dennis Altman, Spencer Towner, Laura Mullen, Quinton and Michelle Taylor, the Browns, Lynn Conroy and her cousins.
As the mom of an active member of the Army, my heart goes out to every member of her family. This is our worse fears realized. Know that there is a whole community that is there for this family. My thoughts and prayers to each and every one of her family and friends!
My stepson whom Shaina babysat when she lived in Batavia. Had a desire instilled in him to serve his country like she did. He is still trying to persue that dream and will make it someday.
Everything I have read about Shaina has left me with the impression of a woman who was in every way shape and form an example to those around her how determination and courage can carry you through anything. I plan on attending her services tomorrow and hopefully wed. I wish that my first meeting with Shaina wasnt under these circumstances but all I have heard from my wife and stepsons gives me the feeling of knowing what kind of person she was.
As a former member of our armed services, and out of the respect she earned from my family. I salute this sister in arms and offer my condolences to her family. God Bless you and your family Sgt Schmigel I look forward to meeting you when my time comes to make the journey to the place you are resting in now.