February 11, 2012 - 8:05pm
Bow hunter who fell from tree stand wants other hunters to learn from his experience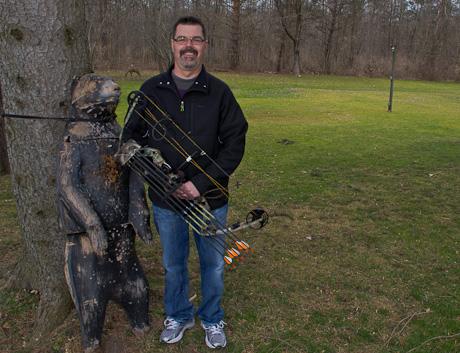 John Starkweather is lucky to be alive. He knows it. He wants other hunters to know it, too.
According to hunting safety instructor Bill Fox, in Western New York this past season, five people fell from tree stands. Four died. Starkweather made it, though he almost didn't.
"I love hunting," said Starkweather, whose father, a chicken farmer in Pavilion, first took him out looking for game 30 years ago. "If I can save one person, whoever it is, I would feel I've done my part. I don't want someone to go through what I've gone through."
An avid bow hunter and a truck driver for Wegmans, Starkweather scheduled his vacation to coincide with bow season, and on his second day out, Nov. 1, Starkweather went to a tree stand he's used a few times over the past four years.
He arrived at about noon on his aunt's property on Gilhooly Road in Alexander and climbed up to the stand with his bow and arrows.
And he waited. And he waited. And he waited. Starkweather was skunked.
As evening approached and an afternoon of zero game passing within range, Starkweather decided it was time to climb out of the tree stand.
The 45-year-old father of two teenagers unbuckled from his harness and climbed out of the stand.
"I've stepped on that branch many times over the years," Starkweather said. "This time, the branch broke."
He fell 26 feet.
He doesn't know how long he laid on the ground unconscious.
When he awoke, he knew he was badly hurt. But he was able to reach his mobile phone in his pocket and call 9-1-1.
Alexander Fire Department arrived within minutes, with firefighters riding a gator to his location, guided by information he gave to emergency dispatchers who relayed it to responders. 
Mercy Flight was called to the scene and he was airlifted to Erie County Medical Center.
His injuries were extensive and serious.
"I had eight broken ribs, a broken shoulder blade, collapsed lung, lacerated liver and two cracked vertebrae," Starkweather said, and looking at his wife, Stephani, "Is that it?"
"Yes," she replied.
"Oh, and two chipped teeth," John added. "There was so much. The list never stops."
After a week in the hospital, Starkweather returned home to begin his recovery.
On his fourth day home, Starkweather tried to scratch his back and the main artery to his liver broke open.
Stefani, an assistant physical therapist, said he stopped breathing and was turning blue. She could hear his heart, and also knew because of the cracked ribs, chest compressions were not an option. She started mouth-to-mouth and their son called 9-1-1.
When East Bethany firefighters arrived they put him on oxygen and he started to revive. He remembers being carried outside and when the cold air hit him, he said he was fully aware from that moment on of what was going on.
He needed another airlift, but Mercy Flight #5 was out of the area and too far away (Starkweather was likely the first patient on the brand new Mercy Flight #5 on Nov. 1). The State Police helicopter from Batavia was called to the scene and Starkweather was airlifted to Erie County Medical Center.
Surgeons opened Starkweather, who was in an induced coma, and left his body open for three days to ensure all bleeding was controlled. They inserted a stainless steal tube to replace his damaged artery.
"I was in the hospital for my vacation, my birthday and Thanksgiving," Starkweather said.
He still has visible bed sores on the back of his head.
"He's lucky," Fox said. "He's absolutely lucky. That's why I so intensely want him to come and talk (to a safety class). Hopefully, for the younger generation, instead of us telling them, 'This is what can happen,' he can show them."
Fox said it's especially important to stress tree stand safety with bow hunters. Because of the limited range of bows, they use tree stands in the hope of passing game and the chance to get within 20 or 30 yards in order to fire off a shot.
The week Starkweather was in the hospital, another bow hunter seeking game in Genesee County, fell to his death.
Charles E. Sossong, 42, of Lockport-Olcott Road, Newfane, was in a tree stand located off Sour Springs Road, Alabama. When he didn't meet his hunting partner, his partner went looking for him and found him on the ground seriously injured.
There are no details available on how Sossong fell or what safety device he might have been using.
"It's a big issue and we stress tree stand safety a lot in the course because it's especially important for bow hunters," Fox said.
In Starkweather's home are a few trophies bagged with his bow, from a bear to a deer with a nice eight-point rack and the skull of a wild boar he killed on a hunting reserve overseas.
He said he knows all about safety, but on Nov. 1, maybe he got just a little bit complacent, a little too comfortable with something he's done many times.
Starkweather said the harness he was using that day was kind of old-school. It's designed to hold the hunter in the tree stand once he takes position. It offers no protection while getting in and out of the stand, which is the most dangerous time.
A newer harness would connect from the top of the stand to the ground, and if a hunter started to fall, the belt clip would catch, much like a car's seat belt, preventing a fall.
The systems are expensive, though, which may be why hunters still don't use them as much as they should, though Starkweather is now convinced they're worth it.
"You always say, it can't happen to me," Starkweather said. "That's the cliche, right? Well, it can happen to you."
As for Starkweather, he said the only tree stands he will climb into in the future will use a ladder. He's not taking any more chances.
"There's never been any doubt he would keep hunting," Stefani said. "He loves it too much. It's who he is."
Just like John, Stefani doesn't want to see another hunter's family go through what the Starkweathers have been though, which is why she supports John talking about his injuries so publicly.
"He's always been so active, so strong and so on the go," said Stefeni, who for the first time while we talked, struggled against a few tears. "Seeing him so injured, having to put his life on hold, has been hard, especially for somebody you love so much."
Starkweather knows just how fortunate he is, and part of the reason he's alive, he acknowledged, are the emergency personnel who responded, first to his accident, and then to his medical emergency at home.
He especially wanted to thank the personnel of the Alexander and East Bethany volunteer fire departments, Mercy EMS, Mercy Flight, the Sheriff's Office and State Police.
"I'll never get another piece of paper from Mercy Flight or a volunteer fire company asking for money and just throw it out," Starkweather said.
February 12, 2012 - 8:35am
#1
John - I'm so glad you are ok and thrilled that you are going to help teach safety instruction to other bowhunters!
February 12, 2012 - 2:01pm
#2
Amen, Jason. I can't tell you how many times I've been in a stand with NO harness at all. I don't hunt from the 26' level though..lol. I find that 10' or 12' is high enough but even a fall from 10' could be disastrous.
February 12, 2012 - 7:28pm
#3
Lucky & blessed to be alive...I remember when that happened ~ heard it on the scanner. I admire you for sending out the message. Glad to see your pic with a smile on your face! You've been through ALOT.