August 24, 2014 - 10:44pm
Brinkley wins 2014 Wiener Dog race at Batavia Downs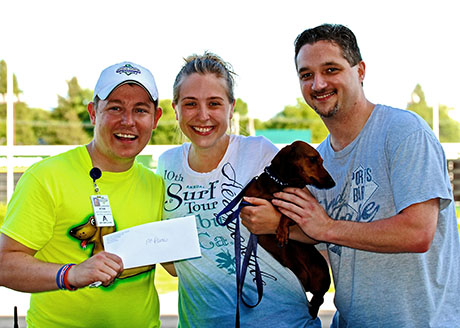 Photographer Amanda Earl covered the wiener dog race at Batavia Downs. 
Press release from Batavia Downs:
Kristy Drabek's 2-year-old dachshund named Brinkley stormed down the stretch of America's oldest lighted harness racetrack to win the championship final of the 2014 Genesee Feeds wiener dog races on Sunday afternoon at Batavia Downs Gaming.
The official margin of victory was a half a (dog) length.
Six-year Pablo Penders, owned by Adrienne Penders, surged at the wire to nip another 5-year-old, early leader Ruby, owned by Sarah Farley, for second.
Over 70 fleet-footed wiener dogs participated in the annual races that act as the final piece of Family Fun Day at the races.
Brinkey's win was worth $100 in gaming free for his happy owners while second and third paid off $50 and $25 in free play, respectively.
Reigning champion Gordon, who has won the last three years, did not enter.
"It was a great crowd and a great day," Todd Haight, Director/GM of live racing, said. "Our marketing department put together a plethora of activities and it certainly brought a huge crowd.
Batavia Downs video: