July 24, 2014 - 11:43am
Brit recreating cross-country bike trip of 1884 gets warm reception in Batavia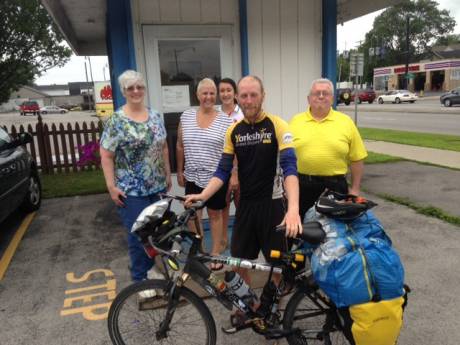 When Stuart Lowe stopped at the visitor's information booth in the Holland Land Office Museum parking lot on West Main Street, he may not have been expecting the kind of welcome he received.
Lowe is from the U.K. and is riding a bicycle from San Francisco to Boston, following the path of Thomas Stevens, the first person to successfully cross the United States on a bike, which he did in 1884.
Lowe is making the trek in support of Doctors Without Borders.
Members of the Batavia Kiwanis Club often volunteer to staff the information booth, so when Lowe arrived and spoke with the volunteer there, local help for him was quickly mobilized. Kiwanis members came up with an expired gift certificate for the Days Inn and convinced the Days Inn manager to honor it. They also contacted Ken Mistler at City Slickers. Mistler provided Lowe with a hot meal.
By this morning, Lowe was heading east once again, following the trail first blazed by Stevens.
Top photo submitted by Anita Strollo. Bottom picture from Marc Tillery.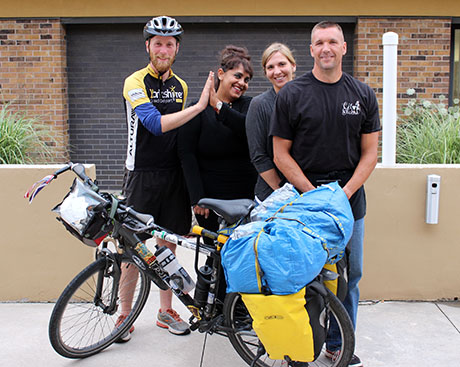 A video about Stevens: