May 14, 2014 - 3:36pm
Brother accused of stabbing brother while camping in Middlebury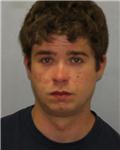 A Le Roy man is in satisfactory condition at Strong Memorial Hospital after undergoing surgery for stab wounds allegedly inflicted by his brother while they were camping in the Town of Middlebury.
David R. Gross, 23, was stabbed several times, according to State Police on May 11 and flown to Strong by Mercy Flight after first being transported in a private vehicle to Wyoming County Hospital.
His brother, 26-year-old Richard J. Gross, of Byron, allegedly stabbed him following an argument.
They were camping in a wooded area off of Bank Road, State Police said.
David Gross suffered a punctured and deflated lung along with multiple other injuries.
Richard Gross, pictured, was charged with first-degree assault, a Class B felony. He was arraigned in Town of Warsaw Court and jailed on $50,000 bail.
Gotta love/hate autocorrect..... Nothing worse than a deflated PB&J