July 24, 2013 - 2:28pm
Burling Drugs in Corfu closes after 21 years as crony capitalism takes its toll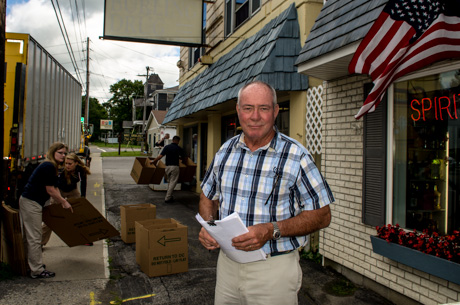 The way Dan Burling sees it, the cards are stacked against the small business owner these days, especially for independent drug store owners.
Reimbursements from big insurance companies for customers' prescriptions have shrunk dramatically in recent years, Burling said. In his view, big mail-order firms engage in anti-competitive practices designed to cripple local pharmacies. And the coming implementation of the Affordable Health Care Act is just going to make matters worse.
So the former State Assemblyman did the only thing he thought he could do: Close.
Yesterday was the last day of business for Burling Drugs in Corfu.
"When I came here 21 yeas ago, there was no pharmacy here," Burling said. "It was shut down. I opened the store up. I put a lot of my heart and my soul into it."
There's no way an independent shop can survive, he said, on what insurance companies are willing to pay these days.
"It looks to me like the insurance companies are ratcheting down their reimbursement to match what the large chains can pay," Burling said. "I have no quarrel with the large chains, Rite-Aid or anything, but our margins just weren't enough to sustain our business."
To survive recently, Burling had to borrow money and that's something he is no longer willing to do.
"I wasn't taking much out of the business," Burling said. "I did everything I could possibly do to try and stay profitable, but the profits just weren't there."
Big mail-order houses also put the squeeze on independent pharmacies, he said.
As a member of the Legislature, Burling sponsored a bill that made it illegal to force patients to buy prescriptions by mail order. The big firms just ignore the law, Burling said.
"They constantly badger my customers," Burling said. "They get the data and they call them and they market their mail-order business directly to them."
And the crony capitalists in Washington continue to work against the survival of the little guy.
"Medco and Express Scripts merged, and as far as I'm concerned, that never should have been allowed," Burling said. "Being in politics as long as I was, I know how it works. Big money goes to the politicians in Washington and they ignore the little guy and get paid off."
Obamacare -- the Affordable Health Care Act -- Burling said is going to put the squeeze on all sorts of small businesses in medicine. The law will force even smaller reimbursements and the mandated cost cuts that small business owners won't be able to manage. You'll see a lot of health-care providers go out of business when that happens, Burling said.
He understands some people are upset by his store's sudden closure, but his co-op contract with Rite-Aid gave him an out now and he decided to exercise it.
Over the 21 years he's run the store in Corfu, Burling said not only has he provided a pharmacy to the community, he's also brought in doctor offices -- doctors who have since relocated to their own practices.
"These are contributions that I made to the community that I think were significant," Burling said, "but there comes a time in your life, you know, when you're at my age, that this is the only way I'm going to be able to retire, the only way I'm going to be able to enjoy life."
July 24, 2013 - 4:58pm
#1
Just a personal opinion,
I use to own the video store across the parking lot from the drug store early on after Dan and his wife opened up. We got into a hugh fight over the parking lot use and upkeep. After a lot of cursing and fist shaking we came to terms and moved on. I wont say Dan and I are friends but we are friendly. As I write this it dawns on me that that fight was close to twenty yrs ago and I don't ever remember either one of us ever bringing it up again.
We didn't invite each other over to each others house for dinner or anything like that. I went there for my paper and a birthday card or my wife inhaler Like many other village residents. Over the years Dan and I chatted about different things when ever I went into the store, Now don't get me wrong, Dan isn't all warm and fuzzy! What I learned from our chats was what a great patriot he is. A former marine that often asked about my sons that were serving. And he hated big government! The thing ill miss the most? Being able to walk and shoot the bull with the girls and Jim and Ron the druggists. Spending ten mins yakking about anything. and then out the door I go.I went down there yesterday evening and picked up an inhaler for my wife for the last time, got hugs from the girls and Jim came over to shake my hand and wish me well.
Maybe im wrong but I don't think ill be able to go over to Rite-aid And be able to take ten mins of an employees time chatting or have the owner come out from around the counter to tell me a fishing story. I for one thank you for the 21yrs and wish you a happy retirement!
July 24, 2013 - 10:47pm
#2
Bravo Mr Graham! Great comment and just shows how times have change from a personable society to impersonal society. I remember my days growing up and causing harmless mischief and by the time I got home my parents were waiting and dealt their punishment. I remember talking to my elderly neighbors and learning the history of Stafford, their family and/or my family. Recently realized after my Grandma's death how many people she influence not just in Stafford but, in Genesee County, Virginia, Florida and Central and Western New York are some other examples. I knew pretty much all my neighbors back then and still know many today but, have new neighbors whom that are not as sociable as the past. Remember how the neighborhood knew when something was wrong and warned each other of possible criminal activity. It is not as informative as before. People do not talk like they use to in fear of being accused of putting their nose where it does not belong or worried about attracting the wrong kind of attention. Do not know Mr Burling (Can't be half bad since, he is a Marine) or Mr Graham since, I am not a resident of Corfu but, sounds like they were neighborly at least. Never knew neighbors that, did not argue once and awhile and settle differences rationally and respectfully back in my younger years. What society would be like if, we had more personable neighborhoods and/or society?
MR Burling good luck to your family and you during your retirement era.
July 25, 2013 - 9:00am
#3
It's not all the mail order pharmacies fault.
Medicare, forces people to use mail order pharmacies, like MEDCO, by refusing to pay for prescriptions from other pharmacies like Rite Aid, Wal*Mart, etc.; even the small mom and pop pharmacies as well.
Also, Wal*Mart's $4 prescription drug program would take a bite out of the smaller pharmacies as well. Their list of major prescription drugs and antibiotics is not matched by the larger pharmacy chains, and in addition to that; Wegman's has free antibiotics for anyone with a shopper's club card.
That, I would believe more so, is putting more of a crunch on these smaller pharmacies.