April 10, 2014 - 6:11pm
Byron-Bergen rallys support for bill to make Greek yogurt the state's official snack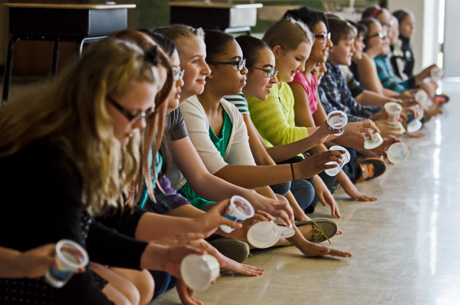 Photos by Howard Owens / Story by Sloan Martin, WBTA.
New York has several State symbols: the sugar maple is the state tree and the state gem is a garnet. What it doesn't have, though, is a state snack and the fourth-graders at Byron-Bergen Elementary School are doing something about it.
In a fun school assembly Thursday, the students marked their accomplishment of getting a bill to Albany.
With pop hits like ABBA's "Dancing Queen" and Lorde's "Royals" reimagined to proclaim the benefits of yogurt, along with funny skits, the auditorium was filled with B-B fourth-graders who're amped up and extremely knowledgeable about yogurt.
"It's very healthy for you and it has lots of good vitamins and calcium," Sadie said.
"We've learned that we've been producing the most yogurt in New York State, especially in this area," Grace said.
Learning about its impact on their bodies, the economy and the government, it's been an interactive and engaging learning experience.
Superintendent Casey Kosiorek says he's proud of the kids and their teachers for taking what they learn and putting it into action.
"It really lines up with everything Genesee County's about with dairy farming and additions to our yogurt companies as well," he said. "It really aligns well. It'll be memorable for the students, especially after it becomes a law."
"Absolutely, this is interdisciplinary," Kosiorek said. "They've had to work on their writing, they've had to utilize their math, they've had to learn about social studies, they've had to learn about government. As you can see, they were singing and writing songs, producing films – all the skills that we look for as our young people move up to the junior-senior high school and then college and careers."
State Senator Michael Ranzenhofer says it's government in action.
"They're living it by writing us letters, by doing these skits today," Ranzenhofer said. "We're going to make this become a law."
The bill to make yogurt the official state snack has been introduced in the Senate and once it passes both houses, it will find itself on the governor's desk -- all because of the Byron-Bergen fourth-graders.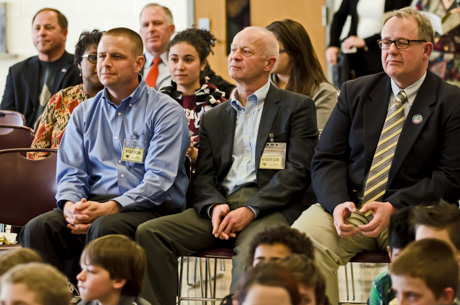 Mike Davis, Upstate Niagara Cooperative, Kevin Williams, Muller Quaker Dairy, and Roger Parkhurst, Alpina Foods.