June 24, 2014 - 4:43pm
Canadian accused of putting fellow concertgoer in coma enters guilty plea just before trial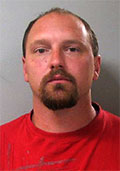 Craig Lawson
A Canadian resident who was arrested at Darien Lake nearly a year ago after hitting another patron of a Kid Rock concert entered a guilty plea today to assault in the second degree.
The plea agreement, which comes on the day jury selection was supposed to start in his trial, caps Craig Lawson's sentence at one year in the Genesee County Jail.
Lawson and Jason McNeil, a former WNY resident who lives in Tuscaloosa, Ala., got into some sort of argument and Lawson hit McNeil, causing him to fall and hit his head on the ground.
At a preliminary hearing, Deputy Lonnie Nati testified that Lawson said following the incident, "he never should have touched my wife."
McNeil was hospitalized and in a coma for weeks following the incident.
An online fundraiser set up by McNeil's family drew thousands of dollars in donations, including a donation from Kid Rock.
In January, a source in regular contact with the family described McNeil's injuries as "catastrophic" and said McNeil requires 24/7 care.
The 34-year-old Lawson will be formally sentenced in August.