June 12, 2014 - 9:38am
Car hits pole in front of Burger King, Batavia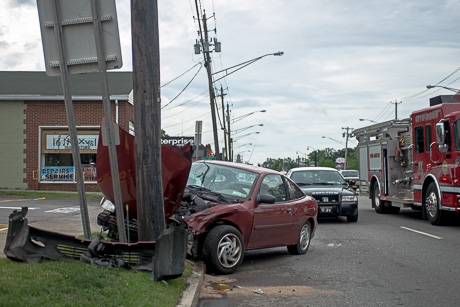 A car vs. pole accident in reported in the area of 230 W. Main St., Batavia.
That's in the area of the Burger King.
A person reports a possible neck injury.
There are also fluid leaks.
Batavia PD is on scene.
Batavia fire and Mercy EMS dispatched.
UPDATE 9:48 a.m.: A second ambulance is requested to the scene.
UPDATE 10:20 a.m.: Engine 11 is back in service.
The driver of a tractor-trailer carrying steel beams said he was eastbound on West Main when he noticed the driver of the sedan pulling out of the Burger King parking lot. He said he could see the driver looking right, but he never looked left. The truck driver saw that the car driver was going to pull out into traffic without stopping. The truck driver was able to pull over into the inside lane. Even with the evasive maneuver, the car still caught the rear tire of the truck, spinning it into the utility pole. The truck driver thinks the accident would have been much worse if he hadn't moved over.