September 11, 2012 - 2:14pm
Child molester faces new child abuse allegation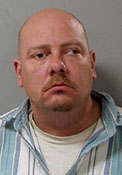 A convicted child molester sentenced just last week to 15 years in state prison faces a new first-degree sexual abuse charge.
James Little Jr. was arraigned in Batavia City Court this afternoon on the single count.
Det. Kevin Czora said the new charge reflects the alleged discovery of a second child sexual abuse victim. The second alleged victim is elementary school age.
There is only the one charge now pending against Little and Czora does not anticipate any further charges, and to the best of his knowledge there are no further victims.
The alleged abuse took place in March, Czora said, which is the same time frame Little abused a toddler in the city.
Recently, Beverly Hensel, 53, of 8921 Alleghany Road, Pembroke, was arrested and charged with possession of a sexual performance of a child. In a deposition, Little said he first received a DVD of child pornography from Hensel in January 2009.
Little's case was set for a preliminary hearing at 11 a.m., Nov. 13. Little remains in the Genesee County Jail awaiting transfer to state prison.
September 11, 2012 - 7:28pm
#1
Just Gross. That's all I can say.
September 11, 2012 - 8:27pm
#2
Something tells me he's not going to fair well in the criminal castle
September 11, 2012 - 9:20pm
#3
Doug,
I would guess that because of the age of his victems and the severity of these charges he will be in protective custody, which means alone in a 6x8 cell locked down for 23 hours per day. If he ain't crazy now he will be after a few years of that!