January 3, 2013 - 3:14pm
Chris Collins takes oath as new representative of the NY-27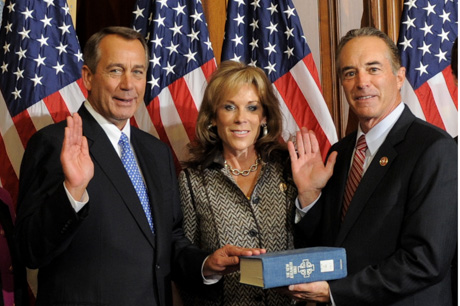 Statement from Rep. Chris Collins:
"Today, as I took the official oath of office, I thought of the faith and trust the hardworking residents of New York's 27th Congressional District have placed in me. I am humbled by the opportunity to be their representative and their voice in the United States House of Representatives.
As a new member of Congress, I look forward to serving on both the Agriculture and Small Business committees. These committee assignments are a natural fit for both my experience as a small business owner and the incredibly important role agriculture plays in NY-27. In addition to fighting every day for what is best for the families of NY-27, I pledge to be a strong advocate and champion for farmers and small business owners, and their employees, not only in our own community, but all across this country.
I begin my time in Congress at a very critical moment in our country. It is my hope that the new Congress can come together to seriously address the issues facing our nation. I look forward to being a part of the discussion, and most importantly, a part of the solutions that are necessary to curb our nation's unsustainable spending and reduce our crushing national debt. Members of Congress must start making decisions based not on political expediency, but on commonsense fiscal policy focused on ensuring prosperity of our children, grandchildren and future generations."
Collins will take a ceremonial oath of office at 1 p.m., Saturday, at the Genesee County Courthouse.
January 3, 2013 - 6:53pm
#1
Am I mistaken or doesn't the person taking the oath put their hand on top of the Bible while the person administering the oath holds it? Or was Collins swearing in Boehner as Speaker?
January 3, 2013 - 11:56pm
#2