December 4, 2012 - 5:21pm
Church in Oakfield giving away bread, other food, every Tuesday to needy families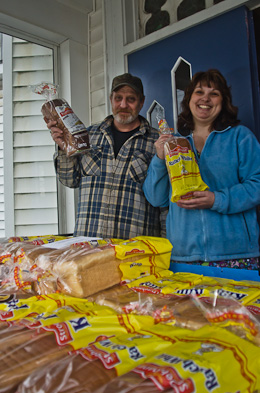 Families in need can stop by the Oakfield Community Bible Church, 80 North Main St., Oakfield, on Tuesday's from 1:30 to 3:30 p.m. for free bread, and perhaps other food items when available.
The free-food ministry is supervised by Carol Lowe (who wasn't able to be at the church today) and has been ongoing for three or four months now.
Families can receive up to three loaves of bread and when available canned and boxed food items such as tuna, vegetables, mac and cheese and peanut butter and jelly.
"When we can we try to provide a meal," said Jacquie Lindke, (right in the photo).
Availability depends on what has come in from donors.
All of the food is free, no questions asked.
Pictured with Lindke is Tom Petter. Both are residents of Basom.
From 10 to 2 p.m., Dec. 8, the church will be giving away clothes to anybody who needs clothing items, including coats, boots, hats and gloves for men, women and children.
December 5, 2012 - 6:25am
#1
Howard, that young lady in the picture is Jacquie Lindke not Lindsey (check your notes) and the OCBC has been giving away bread to the Oakfield community for about a year now.