March 20, 2013 - 2:23pm
City fire adding four recruits, including second female to join department
Three volunteer firefighters, including one from Genesee County, will be joining the City of Batavia Fire Department as soon as they complete training.
In all, four new firefighters are expected to join the force after their July 3 graduation from the academy in Utica.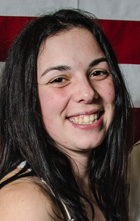 Christina Marinaccio (inset photo, file photo), a captain with the Le Roy Volunteer Fire Department, becomes the second local volunteer to join the department in the past year. Last summer Jamie Call, a Stafford volunteer, joined the department.
Marinaccio becomes the department's second female firefighter, joining Anne Stefaniak.
Also expected to go through the academy starting April 1 and join the department after graduation are Ryan Barber, a volunteer in Henrietta, and Nathan Kinne, a volunteer from Niagara County.
Barber and his wife recently purchased a home in Bergen and Kinne will move to Genesee County.
The fourth new department recruit is Ryan Whitcombe, who has no prior firefighting experience. His brother is currently with the department.
Chief Jim Maxwell also told WBTA he is expecting a firefighter making a lateral transfer from Canandaigua to join the department.
Vacancies have been created in the department recently by retirements and the resignations of Brian Bordinaro and Gregory Phillips, who were forced to give up their jobs as part of a plea bargain for engaging in bookmaking. Maxwell said more positions will open up this summer as a result of more retirements.
Whether all of those positions are filled could be a point of negotiation between the city and the union representing firefighters as the City of Batavia looks for more ways to reduce expenses.
March 20, 2013 - 2:56pm
#1
Congrats to all 5 of the new recruits!!!
March 20, 2013 - 4:58pm
#2
Congrats Christine! You'll do great.
March 21, 2013 - 9:41am
#3
Make us proud Christine! Congratulaions!