February 14, 2014 - 8:35pm
City fire testing iPad with apps to help manage emergency responses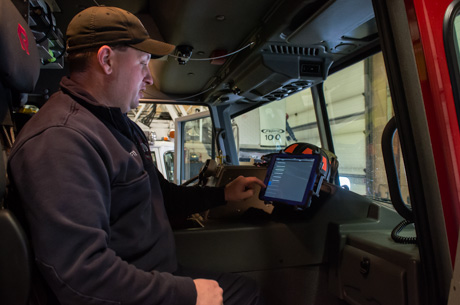 Spock had his tri-corder, a device at his fingertips that could provide him with information quickly in any emergency situation.
City of Batavia firefighters now have an iPad and as the saying goes, "there's an app for that."
In this case, there's apps that can map their calls and tell firefighters where all the hydrants are in a neighborhood, and an app that tells them how the batteries are configured in hybrid cars, and an app to help them deal with hazmat situations.
Last week, Lt. Bob Fix installed a special iPad in Engine 11 as part of a pilot project to see if such a device can assist firefighters in emergency situation.
The iPad uses an app called Active911 that ties in with the county's emergency dispatch center (soon to be replaced by a new app tied into the new communications system). When City fire receives an alarm, all the details go to Active911 and the scene commander can have at his fingertips all of the information about which firefighters are responding (especially in a multiple alarm situation) and help him position trucks based on the location of hydrants.
The hybrid car app is useful in auto accidents, since hybrids have both areas that are reinforced and too hard to cut through and places pulsing with high voltage that a firefighter wouldn't want to cut. With the iPad, a commander can punch in make and model and get a copy of the schematics for the car.
The hazmat app, created by the Federal Government, lists 438 chemicals that are potentially hazardous. If a firefighter doesn't know the name of a chemical, he can punch in the characteristics and the app will help him identify the chemical. The app uses wind speed and direction to map an evacuation area and provides information on how to fight any related fires and how to treat any victims with possible exposure to the chemical.
Fix said if the trial goes well, iPads will be installed in the department's other emergency vehicles.