January 23, 2014 - 7:21pm
City's skate park has uncertain future after officials have all of the ramps removed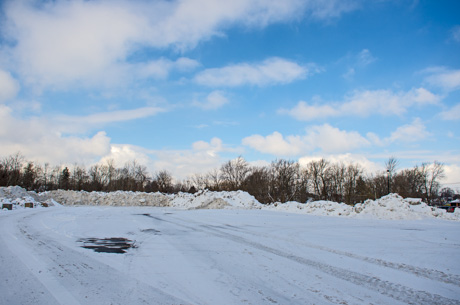 To you, it probably just looks like a picture of a vacant lot with a piles of snow at the far end, but to Joseph Barclay Jr. it is -- or was -- a skate park.
Barclay asked on Facebook if The Batavian would look into why the city's skate park off Evans Street, behind the Falleti Ice Arena, disappeared.
Today, City Manager Jason Molino said the skate park had become a problem and it's future is uncertain.
"The park keeps getting vandalized and we were just putting good money after bad," Molino said.
In the fall, when city workers went to remove a couple of damaged ramps, they found drug paraphernalia and hypodermic instruments inside the equipment.
At that point, officials decided to remove the skate park all together. Molino said the city will decide what to do with it in the spring.
Barclay thinks he and his skating friends need a place to roll.
"I know all the BMXers, skateboarders and rollerbladers plan on using the streets again if the park isn't returned to us," Barclay said. "We should have a place where we can do our sports where we won't be in danger. Instead they take it away from us. It makes us use the streets again putting people and kids in danger of getting hit by cars."
Molino said he's aware there are a few users of the park, but Chief of Police Shawn Heubusch is concerned about the location on Evans, Molino said. Tucked behind the ice arena, it's not easily visible to people, which perhaps gives some visitors to the park the idea that it's a good place for illegal activity.
Vandalism in all of the city parks has become an increasing problem, Molino said. Water fountains, bathroom fixtures, tennis courts and nets, ball fields and basketball hoops have been regularly targeted by vandals, Molino said.
"It's a constant problem that we're trying to deal with in our parks," Molino said.
January 24, 2014 - 12:08pm
#20
How Howard is that harassment? Police do stake outs all the time, they use hand held video cameras, still cameras etc as matter of routine.
The common denominator is suspicion. Now, the proposal in front of the council is the purchase of one camera, which is not permanent. Day to day use simply for the sake of resource distribution is most likely going to be on certain streets based on complaint data. What if the complaint data begins to center around one house, one apartment building or one particular business?
Pointing that camera toward that house, apartment building or business would not only be well with in the law, but actually prudent so long as not placed with in that house. It is absolutely no different than a stake out based on citizen reports.
There is a huge difference between pointing that camera toward a house during an investigation compared to pointing it there because someone wants to. If a unusually high amount of complaints are generated toward a particular property, so long as no camera is placed on the property without warrant, pointing it toward that same property is markedly different. It is plain view and absolutely no different than a 24/7 stake out.
I challenge you or anyone else for that matter to present one, just one court decision where photo or video taken by a stake out team obtaining photos or videos of the outside of a property was ruled as unconstitutional or a violation of rights in anyway. I doubt that anyone could, because it is clearly a well established and sometimes routine act of sound police work.
A far different cry than inside one's property.
Many investigations of drug trafficking begin with surveillance of drug houses after citizen complaints, and almost all that surveillance is presented to judge with photos and video taken by surveillance teams, what difference is there in parking a car down the street with camera armed detectives or a camera mounted on a telephone pole pointing at the same house, absolutely none
I am not all saying that permanent camera's pointed at specific properties is prudent, but I am saying in specific cases and certain circumstances temporary placement is, and those circumstances do not require a warrant and are not an invasion of privacy and does not constitute harassment.