April 2, 2014 - 6:48pm
Closure of Five Star branch still doesn't sit well with many in Pavilion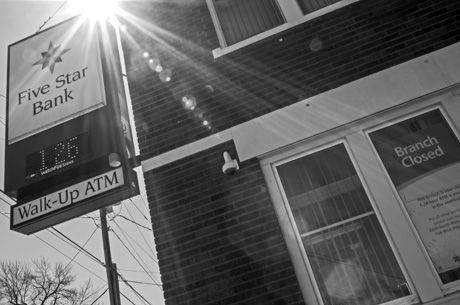 For 85 years Pavilion has had a community bank, but since Five Star closed its branch on Cato Street in October, local residents and merchants have been feeling the pain and the pinch.
"Some merchants make cash deposits on pretty much a daily basis," said Town Supervisor Theron Howard. "Other people bank every week or two and can make other arrangements. If I had to make cash deposits every day, it would be a real inconvenience not to have a local branch."
Town Council Member Linda Thompson said she's heard a lot of complaints around town about the branch closing. She's been a sounding board because she retired as manager of the bank a year ago after working there for 31 years.
"People said, 'oh, you saw the writing on the wall.' Well, no I didn't," Thompson said.
But she does understand why it happened. More people bank online and use ATM machines. Lobby traffic had been declining for years.
"It's not just Pavilion," Thompson said. "All of the branches of banks have seen that. You shoot yourself in the foot because you want them to do online banking, but then they don't come to the branch."
Chuck Guarino, senior VP and director of marketing for Five Star, confirmed there has been "a significant drop in transaction volume over the years" and that's the reason for the closure.
"We have several offices in the surrounding area and all indications are that is where the traffic is heading," Guarino said. "We haven't changed our commitment to the community from a charitable or events or programs standpoint, but we felt it best for us to be able to close that office."
Steven Brooks said he's been banking at the branch from its years as Pavilion State Bank, then Wyoming County Bank and finally Five Star.
He said he's talked to a lot of his friends and neighbors in Pavilion and they're universally unhappy with the branch closure and several of them have switched their banking to the Bank of Castile as a result.
He and others, he said, don't like that banking has now become at least a 20 mile round-trip just to cash a check.
"The bigger impact is on the elderly," Brooks said. "The older folks who walk, they don't want to go to Le Roy, especially during the winter they don't want to go to Le Roy."
That's one of the concerns of Cathy Carlsen, owner Country Hill -- that older customers, who used to combine banking and shopping in one trip are no longer making that trip to Downtown Pavilion.
She said she's definitely seen an impact on her business since the branch closed.
"Often the elderly only go to one area, and if somebody is taking them around, and they only have an hour, they're going to do what they do in that one area," Carlsen said.
Melody Osterman, working with Carlsen, agreed she's seen less foot traffic in Pavilion in the past six months.
"People say 'I don't believe you don't have a bank here any more,' Osterman said. "Or they wanted to come here and do something, but they have to go to Le Roy or Warsaw because there's nothing here. We're missing out on business."
As for making deposits, Carlsen said she's learned to adjust. Her husband will make her deposit for her when he heads to Le Roy on a weekly basis. She does miss, though, having a bank nearby to make change if needed.
People do learn to adapt, said Jim Rudgers, owner of Pavilion's long-standing filling station and garage, Kemp and Rudgers on Route 63.
Some we talked to thought Rudgers would be particularly inconvenienced, but he said, no, not really.
"My wife makes the deposits," he said. "She's on the road anyway."
He's accepts that a bank branch closing is just part of modern life.
"It's a sign of the times," Rudgers said. "People are doing more banking online. There's no need for a lobby anymore. The town can't support a small town bank."
Carlsen would like to see Five Star put its branch building up for sale, so perhaps another bank could open there, but Rudgers said he doesn't think that will happen.
"If they put it for sale they know darn well Bank of Castile would buy it up and put a branch in," Rudgers said.
Five Star is holding onto the building for more practical business reasons, Guarino said. It's the bank's disaster recovery location for the company's computer network and it provides a location for an ATM machine for its Pavilion customers.
The bank has spoken with merchants and is considering options for enhancing the ATM service to better handle their business, but there's little hope of the branch ever reopening.
"The transaction volume isn't there to support a full-service bank," Guarino said.
The spokesman for Bank of Castile wasn't available for comment today.
April 3, 2014 - 5:22am
#1
This is a great article, and pretty much covered everything, by everybody. I am one of the "Elderly" that enjoyed my walk to the Bank. I sure can't get to Leroy or Warsaw, or Batavia. I would recommend a mobile travelling branch that can go from community to community daily. Many of the merchants and some of my fellow "Elderly" would appreciate the convenience.