April 15, 2014 - 7:10pm
Collins standing up for farmers in fight with EPA over 'navigable waters' rule change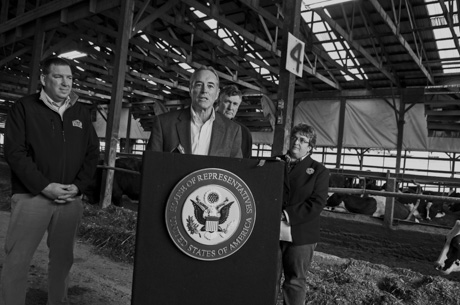 A proposed rule change by the EPA regarding "navigable waters" could have a serious impact on agriculture and local taxpayers, Chris Collins said today during a press conference at Stein Farms in Le Roy.
He was joined by Dean Norton, president of the New York Farm Bureau, Dale Stein, owner of Stein Farms, and County Legislator Shelly Stein.
Norton said farmers have been fighting the proposed rule changes for years; and years ago even won a court case on what Congress intended when it passed the Clean Water Act in 1972.
"The Supreme Court has ruled that Congress was very specific at that time on what navigable water was," Norton said. "If you can run a canoe down it, if you can have commerce effected on that water, then it's navigable. A pothole is not navigable. A pond is not navigable. The puddle out there in the drive way is not navigable."
The proposed rule change -- being pushed by the EPA and the Army Corps of Engineers -- would redefine "navigable water" as any body of water that stands for at least four days and could eventually drain into a navigable waterway.
"If Dale Stein wanted to regrade his driveway to make it level and get rid of the puddles, he would have to call the Army Corps of Engineers and get a permit," Collins said. "That would probably cost him $250."
Norton said the EPA is using a scientific study to back its position that hasn't even been peer reviewed.
If the proposed rule changes go through, then any agriculture work affecting what the EPA has classified as navigable waters would have to be approved and reviewed, at great cost and delay to farmers.
The same rules would apply to cities, villages, towns and counties.
"(The rule change) is also going to effect everyone who is a taxpayer and I think they're (the Administration) going to find they're on the wrong side of the issue," Norton said.
Dale Stein said he's already going through a similar issue with land the farm leases from another property owner. Because some government official signed the wrong piece of paperwork 29 years ago, Stein is unable to open some irrigation ditches needed to properly, in an environmentally sound manner, farm the land.
"Now we're in the process of trying to get through all that so we can farm it correctly," Stein said. "It's just another giant bureaucracy to try and get the proper permit, and if somebody makes a mistake along the line, our children 30 years from now could be paying for it."
The proposed rule change could put farmers out of business, Shelly Stein said.
"Should the EPA be successful in gaining this rule change to classify each temporary puddle as navigable water, our daily farm operation activity would stop," she said.
The good news is public pressure works, Collins said.
He's already received bipartisan support for a letter he's drafted to the EPA and the Corps of Engineers opposing the rule change. More than 160 members of Congress have signed on and he believes, with public support, more will follow.
"There's no doubt that when you can raise the awareness on any issue, the chances of stopping the absurdity of it dead in its tracks is improved," Collins said. "I've got at least a level of optimism that we an get them to re-look at this rule."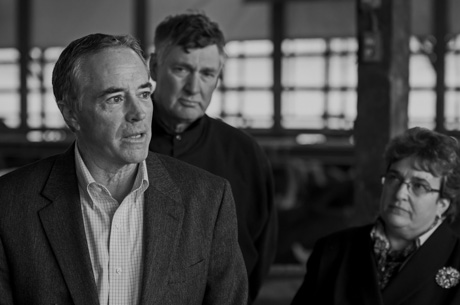 April 16, 2014 - 2:39pm
#2
(33 U.S.C. 1251 et seq) http://www.epw.senate.gov/water.pdf
More importantly the Supreme Court Decision in Rapanos v. US, 547 US 715 - Supreme Court 2006. Where the use of the term "significant nexus" to navigable waters was developed as the test. Of course the term was not defined in the court decision and the EPA along with the US Army Corp of Engineers were left to define the term for regulation purpose. That's how they are connecting "temporary Puddles"
Federal Wetland Protection (although never mentioned in the original act) needs to be removed from the Clean Water Act and have its own unified legislation. This new legislation should take into consideration the provisions of the Fifth Amendment and "taking of private property"