June 12, 2014 - 1:02am
Community honors, family mourns, an 'American Soldier'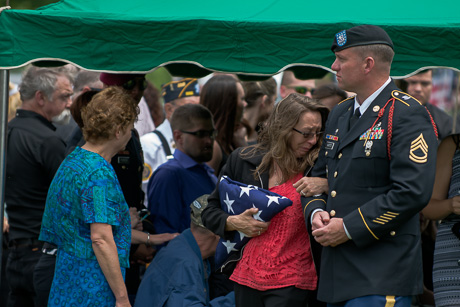 Sgt. Shaina Schmigel was remembered Wednesday with tears and tenderness and lauded for her honor, duty and service to her country.
Hundreds of people in Genesee County turned out to pay tribute to the 21-year-old Army paratrooper who died while serving her country.
Schmigel was from Batavia and attended high school in Medina and her life and news of her death touched people from throughout Western New York.
Her funeral was at Michael S. Tomaszewski Funeral & Cremation Chapel on West Main Street Road. Following the service, her flag-draped casket was loaded into a hearse by a military honor guard. The hearse was escorted to the cemetery in Corfu by the Patriot Guard Riders and Hogs for Heroes Foundation.
Along the route, residents, construction workers, firefighters and schoolchildren lined the roadway, waving flags, carrying signs and snapping salutes as a show of respect to Schmigel and her service to the nation.
A friend said family members were touched by the tribute.
Schmigel died on May 30 in a nighttime training accident at Fort Bragg, N.C.
"You are so brave, so courageous," her brother Matthew Scroger, of Lackawanna, wrote in a letter read by Navy Chaplain Rev. David Glassmire during the service at Tomaszewski's. "Your beautiful spirit, love and energy will forever take care of us."
"For some people it's just a paycheck, but it was never a paycheck just to her," said Staff Sgt. Scott Kuznia who worked in the same unit with Schmigel for two and a half years. Kuznia added, "She was outstanding. She loved being a paratrooper and a soldier."
Schmigel loved NASCAR and country music. As part of the service, two country songs were played, Toby Keith's "American Soldier" and "Courtesy of the Red, White and Blue."
"Thank you for being so brave and serving our country," her 16-year-old sister Sheniqua Samol, of Medina, shared in a letter read by the chaplain. "What will I do without you? I will survive, but I will never be the same."
Portions of this story provided courtesy Tom Rivers, OrleansHub.
Top Photo, Shaina's mother, Karie Schmigel, with the flag that draped her daughter's coffin, following the service in Corfu.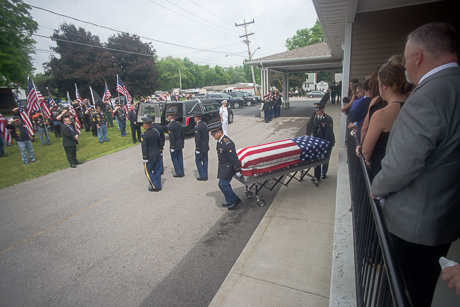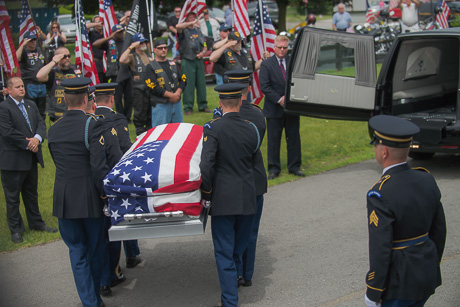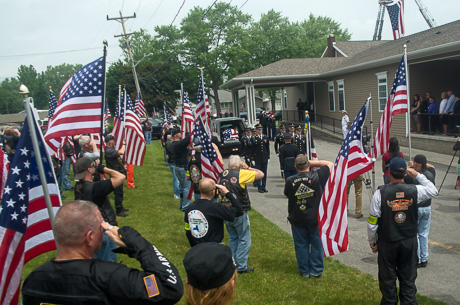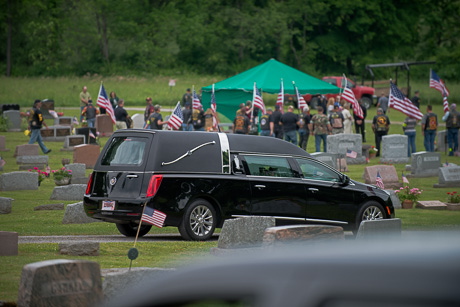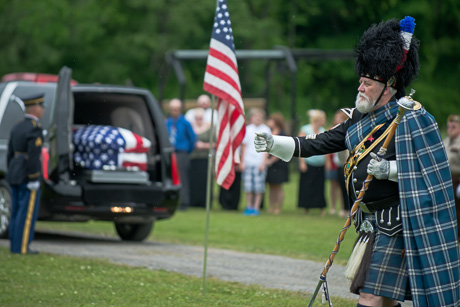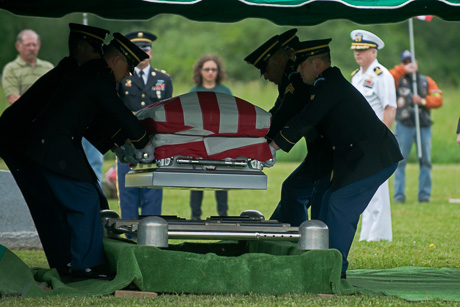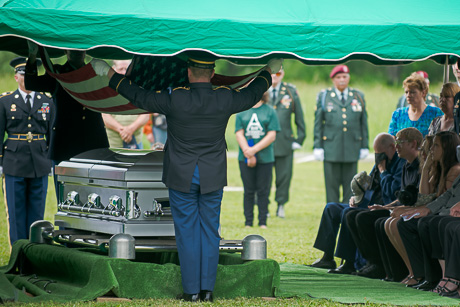 June 12, 2014 - 6:42am
#1
Thank you Howard for such respectful coverage of this story. I can't speak for the family but my wife and stepsons were greatful. As I said I didn't know Shaina except through the recollections of my sons and wife. But as a former service member myself I have to say I shed a few tears, and went to a local church to pray and meditate for a bit after the wake. It really fills me with hope that there are young people out there today, that despite all the rhetoric and bs about our country being on a downward spiral. They are still willing to put themselves in harms way for all of us, no matter what.
Thats what fills me with hope for the future. God Bless Katie and the rest of Shaina's family and friends. I hope the sadness and grief are soon replaced with the knowledge of the heroic character and honor with which Shaina's life filled those that knew her.