January 23, 2014 - 6:33pm
Convicted child abuser will get new attorney for second trial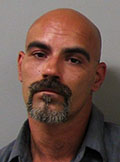 Earl Sprague
Earl Sprague, sentenced yesterday to 21 years in prison for child sexual abuse, will have a new attorney when he goes on trial -- possibly in March -- on a separate set of charges, including predatory sexual assault.
During an appearance today to set a trial date on the eight counts still pending against Sprague, attorney Fred Rarick told Judge Robert C. Noonan that it was apparent to him that Sprague no longer had confidence in him and that a new attorney should be appointed to represent the 42-year-old Alabama resident.
Noonan expressed some skepticism that Sprague really needed a new attorney, praising Rarick's ability as a criminal defense attorney.
"Mr. Rarick is one of the most experience criminal defense attorneys we have around here in handling very serious matters such as yours," Noonan told Sprague. "He worked very hard on this case. If there was a difference over strategy, that's not unusual."
Sprague told Noonan that he felt there was evidence that Rarick didn't bring out at trial that he thought should have been presented to the jury.
"I won't get into specifics, but there was a point in the trial where he said if we do this, they're (motioning toward the prosecution) is going to try and do something else," Sprague said. "We talked about it. I thought about it and then I said go ahead and he didn't go ahead and do it. None of it was brought up."
Noonan expressed concern that a change in attorney could delay the second trial, but after a little more conversation with Sprague and Rarick agreed to refer the case to the Public Defender's Office.
Sprague faces a trial on eight felony counts, including two counts of burglary, 1st, sexual abuse, 1st, criminal sexual act, 1st, aggravated sexual abuse, 1st, two counts predatory sexual assault, a Class II-A felony, and one count of assault, 1st.
Noonan set a trial date of March 24.
Sprague be back in court Jan. 30 to ensure a new attorney has been appointed and is working on the case and can be ready for trial on that date.
January 23, 2014 - 6:42pm
#1
And for once, Noonan needs to make this scum's sentences consecutive. He should never be allowed out.