October 23, 2012 - 10:50pm
Corfu's deputy mayor accuses trustee and village justice of working against best interests of the village
posted by
Howard B. Owens
in
corfu
.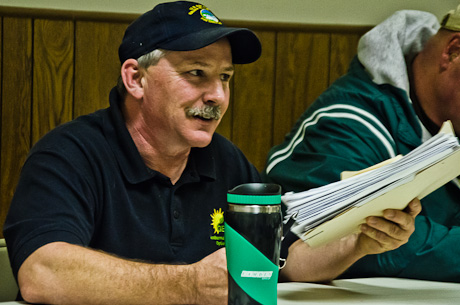 For at least the past 18 months, Trustee Ralph Peterson and Justice Robert Alexander have engaged in a campaign of half-truths and innuendo to try and discredit the Village of Corfu board, Deputy Mayor Al Graham charged Monday night during a regular board meeting.
Graham held forth for more than 90 minutes, laying out a series of allegations about efforts to call into question the leadership of the board -- efforts, the said, that have cost the village taxpayers money, either through increased attorney fees or lost grants.
"As soon as a complaint is found to be unfounded, they move onto the next one," Graham said. "There has not been one thing they've come up with that stands up, yet we're constantly defending ourselves. One door closes and they come back the next month and open another door.
"And they're not going to stop. They will move on to the next thing. We'll defend it. Our attorney will make some money, and we will defend it, and it will be found as untrue and they will move on to the next thing."
Graham's list of particulars included:
A complaint about the handling of STOP-DWI funds;
A fight over the re-appointment of the court clerk, Pamela Yasses;
A complaint about whether a particular closed session was legally a closed session;
A complaint about Alexander being kept from a meeting of the board;
A fight over Peterson changing a job description for a village employee without a board vote;
A disagreement over what was recorded in meeting minutes;
Peterson submitting articles for the village newsletter that allegedly contained political campaign language;
Peterson subjecting the village to a personnel complaint after publicly accusing a public employee of wrongdoing;
Peterson challenging the legality of the village's budget meeting.
"These are rumors," Graham said. "These are innuendos. These are things that he has nothing to back them up with, no facts, but it's just viciousness, vindictiveness."
The trouble started, Graham said, once the authorities with the Unified Court System ruled that Alexander's daughter, Brandi Watts, couldn't work as a clerk in the village court. The ruling was months before a state Comptroller's audit found alleged irregularities in the court's bookkeeping.
According to Graham, Peterson and Alexander are close friends and they cook their schemes up together to try and pin some sort of malfeasance on any elected official or village employee whom they think might be against them.
For most of the meeting, Peterson sat silently, sometimes even with an air of indifference, other times, mocking Graham's statements.
At one point he said, "Don't I have any friends here?"
Another time he said, "I'm full of love. Be sure you get that down, Howard. I'm full of love. I'm not hating."
Near the end of the discussion, after Graham had laid out all of his complaints, Peterson said everything he's done has been with the residents of the village in mind.
"My number one goal was to fix the issues between the court and the board," Peterson said. "Obviously, my approach didn't agree with some of you, but my ultimate goal was to get this fixed. Number two, my personal feeling is this could have been handled in a better way."
Graham went into some detail on a number of issues he raises about Peterson and Alexander, reading from e-mails, memos and other documents generated over the past year and a half.
While Peterson has claimed, Graham said, that he went to the District Attorney's office with complaints about the STOP-DWI program because a police officer complained to him. E-mails indicate that it was Alexander who first raised the issue with Peterson.
Peterson's complain led to a State Police investigation that found no wrongdoing, but in stirring up the issue, Graham said, it forced the county to suspend Corfu's participation in STOP-DWI. Since then, the village has lost $7,000 in grant money.
Even though there was no wrongdoing found with the STOP-DWI program, Peterson said in a public meeting that the Corfu police administrator, James Meier, should lose his job. This led to a complaint by Meier, and more attorney fees.
When Alexander showed up at a board meeting one night, Graham said he misspoke and told Alexander the meeting was closed to the public. He said Village Clerk Sandy Thomas corrected him immediately, but that didn't stop Alexander from filing a complaint against Graham for closing the meeting.
That led to additional attorney fees, Graham said.
As an example of incomplete or inaccurate information from Alexander, Graham pulled out an open letter Alexander wrote to village residents where he said the state's audit report was leaked to the media.
The report was public record and the Comptroller's Office encouraged Thomas to make it available to the public.
Graham also mentioned an incident from earlier in the year when the court was without a court clerk for a time and no court sessions were held for more then six weeks.
People with tickets were e-mailing Thomas asking how they could get their tickets resolved and Thomas was forwarding those emails to Alexander.
Alexander sent an angry e-mail to Thomas demanding that she stop accepting e-mails about court business from the public.
"How do you stop the public from sending e-mails?" Graham said.
On the budget hearing, the board held a budget meeting and found out later that the legal notice for the hearing wasn't published until after the meeting.
Peterson, Graham said, kept trying to turn this into a big legal issue, but state officials advised the board it was an easy fix: Just advertise the hearing again and hold it again, which the board did.
"He sent e-mail after e-mail just costing us more attorney fees because he wanted to get Sandy in trouble," Graham said.
Corfu resident Jim Ropracht tried to encouraged the board to just get along.
"If you're trying to do things for the village, trying to work together, then that's why you're here," Ropracht said. "You can say Ralph has every right to go and do whatever he wants, but that doesn't mean it's best for the village. You can do everything you want, but if you want to make things happen for the village, you do it right. Just because one of you might vote no on something and the rest of you vote yes, that's what you have to do. You can't decide to go off on your own path. You're supposed to be working together."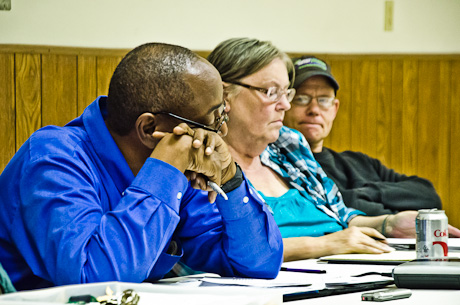 October 24, 2012 - 11:26am
#1