September 5, 2012 - 5:29pm
County taxpayers to foot hefty bill to fund Conservative Party squabble over Grisanti gay marriage vote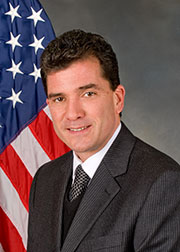 A political fight among Conservative Party members in Erie and Niagara counties is going to cost Genesee County taxpayers $28,000.
How's that?
According to Art Munger, Conservative Party chairman and Genesee County resident, Erie County Conservatives won't support State Sen. Mark Grisanti (inset photo) because of his vote in support of gay marriage. A group of conservatives in Niagara County continue to support Grisanti.
Rather than back the slate of committee candidates chosen by the other seven counties in the 27th Congressional District, Niagara is running its own slate of candidates who side with Grisanti, Munger said.
Grisanti's state senate district encompasses parts of both Erie and Niagara counties, but none of Genesee County.
"Niagara forced (the primary) on the eight counties involved in the congressional district," Munger said. "That's their right. They have a right to the ballot, but it's not us local people that are causing this cost. We had a slate. They choose not to cooperate and work with us and instead filed their own slate."
Munger isn't 100-percent certain, but he said as far as he can tell, all 12 members of the Niagara slate are Niagara County residents.
Richard Siebert, the Republican election commissioner for Genesee County, informed the Ways and Means Committee today about the anticipated expense.
While there are only 845 registered conservatives in Genesee County, the election commission must set up 29 polling places throughout the county for the primary.
Each of the 29 polling places must be staffed by four elections inspectors, two Democrats and two Republicans, plus there is the cost of moving and setting up the machines. 
The only other primary Sept. 13 is for Batavia Town Board, which requires three polling places.
Siebert told legislators that a 100-voter turnout for the conservative primary would be a good turn out.
"You can do the math," Seibert said. "That would be $280 per voter."
Outside, Siebert said the last time there was a conservative primary in Genesee County, for treasurer, turnout was very low.
"Personally, I think we'll be lucky to have 100 come out," Siebert said.
Even so, Siebert said, the Conservatives have every right to go to the polling place and decide who should represent them.
"This is the American way," Siebert said. "They represent people in their districts as committeemen and they have a right to be on the ballot. We could have the same thing in our own parties (Republican and Democrat). If somebody wanted to challenge a committeeman, we could have a primary."
Munger said he regrets the expense for county taxpayers.
"I wish we didn't have the primary," Munger said. "We in Genesee County don't want one, but it appears we're going to have one. We have our slate and we're expecting to go out and win."
September 5, 2012 - 5:35pm
#1
So the Conservative party is going to waste money, because they don't want a guy who voted for equality? What about that is conservative?
Way to be the stereotype!