February 26, 2014 - 2:22pm
DA granted motion to drop remaining charges against convicted child molester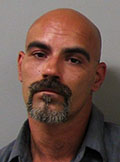 Earl Sprague
There will not be a second trial for convicted child molester Earl Sprague, who has already been sentenced following his first trial to 21 years in prison.
District Attorney Lawrence Friedman made a motion this morning, which was granted by County Court Judge Robert Noonan, to dismiss the remaining charges against Sprague.
The 42-year-old Sprague was facing a possible trial on eight felony counts, including two counts of burglary, 1st, sexual abuse, 1st, criminal sexual act, 1st, aggravated sexual abuse, 1st, two counts predatory sexual assault, a Class II-A felony, and one count of assault, 1st.
Friedman said he could not discuss the reason for the motion to drop the charges.
"We made a determination we couldn't really proceed with the remaining charges," Friedman said. "That's all I can really say."
The former Alabama resident was convicted by a jury on 28 counts of sexual abuse.
February 26, 2014 - 11:37pm
#2
Now he can go to prison...get a free education...then the next time he screws up,
( there is about a 40% chance he will), he can defend himself !!!
"WHAT A COUNTRY!!!!"