April 4, 2014 - 9:33am
Darien Lake's new manager combined love of coasters and teaching young people into one career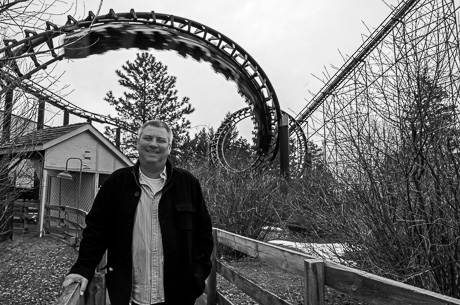 When Rod Rankin -- the new general manager of Darien Lake Theme Park -- was a young man, he never thought he'd wind up running facilities with rollercoasters and waterslides.
"If you'd asked me I would have said you were crazy," Rankin said. "I was going to be a high school teacher."
He studied secondary education at the University of Southern California and was working as a production manager at Paramount Pictures when Paramount bought a chain of six entertainment parks. Paramount transferred him to the theme park division. He's been working in and running theme parks for 25 years now.
But it's worked out for the would-be high school teacher. Asked what his favorite part of his job is his first response is that it's working with the youngsters who take jobs in the parks each summer.
"It's the good and the bad of this industry," Rankin said. "You're training a new generation of children every year, because this is really kind of a first job. That's the good part." Then he laughs (Rankin, a big man, has a hearty laugh). "The bad part is you're training a new generation of kids every year."
Rankin replaces Bob Montgomery, who ran the park for two years, but decided over the winter that he wanted to return to his native Canada to pursue opportunities closer to home.
Under Montgomery's leadership, Darien Lake was working on developing more of a local flare, bringing in Anchor Bar to serve wings, serving Weber Mustard and Dippin' Dots. That's a trend that will continue, Rankin said.
Besides hiring Nik Wallenda to provide entertainment throughout the season, Three Brothers Winery has agreed to set up a wine-tasting area, a wine shop and will cross promote Darien Lake with tags on its bottles at retail locations.
Another change coming to Darien Lake is a redesigned menu for Beaver Brothers and Maria's Italian Kitchen. The new menu will focus on lighter fare for health conscious diners, Rankin said. Just this week he hired a new chef to oversee the creation of the new menu.
With Paramount, Rankin started out as a project manager and was involved in rollercoaster development.
He describes himself as a coaster junkie. A native of the Los Angeles area, Rankin had plenty of access to coasters at numerous theme parks growing up, notably, of course, Disney and Knotts Berry Farm (he spent a lot of time at Knotts, he said).
Does that mean there's a new coaster in the works for Darien Lake? He won't say. He did say, "It's really fun when you go into a facility to learn the new coasters and then hopefully, eventually, build a new coaster."
Rankin spent 22 years with Paramount and its successor company, before leaving in 2007 as the Western regional vice president. He's been with Herschend Family Entertainment for four years, most recently as general manager of the company's park in Denver (unrelated side note: Herschend recently acquired the Harlem Globetrotters).
A certified master gardener, Rankin is looking forward to putting down roots in Genesee County.  He was excited that he had no trouble selling his home in Denver. He's looking forward to visiting the Cornell Cooperative Extension in Batavia. His gardening interest drifts toward heirloom tomatoes and roses. In fact, he's started a rose garden at every theme park he's run and Darien Lake will be no different, he said.
Darien Lake Theme Park's opening day is May 10. The park is hiring now for seasonal positions.