September 19, 2012 - 8:36am
Darien Town Justice Graber sworn in as president of state magistrates association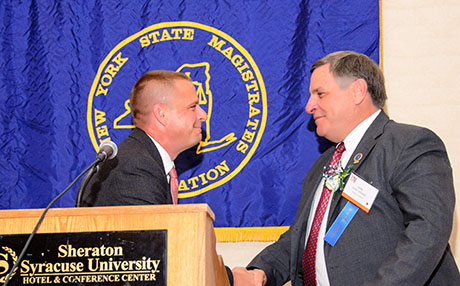 Press release:
Town Justice of Darien, the Honorable Gary A. Graber, was sworn in as the president of the New York State Magistrates Association on September 11th during the 103rd Annual Conference and Certified Advanced Training Program of the New York State Magistrates Association held at the Sheraton University Hotel and Conference Center, Syracuse, New York, Sept. 9-12, 2012.
More than 250 local judges from all areas of New York State took part in the four day event, which combines the State Magistrates Association Annual Meeting and Conference with the Advanced Training Courses which are required by New York State for all town and village justices in the Unified Court System.
The Honorable Timothy Cooper, past president and town justice of Evans was the toastmaster for the Intallation Banquet. Honorable Gary Graber was sworn in by his co-judge the Honorable Michael S. Davis.
Among the many in attendance were: President Graber's father, Donald Graber; brother, Tim Graber; son, Sgt. 1st Class Matthew A. Graber of the Army; daughter-in-law, Capt. Emily Graber of the Army; grandson, Ian Graber; son, Capt. Jason P. Graber of the Virginia Metropolitan Airport Authority Fire Department; and daughter-in-law Kelly Graber. Also recognized for attending the swearing-in ceremonies were Retired Justice Edgar Hollwedel, Retired Justice Charles Dusen, Retired Justice Gary Davis and his wife, Diane.
The keynote speaker at the banquet was Senator John A. DeFrancisco who proudly represents the 50th District in the New York State Senate. During the banquet, Senator DeFrancisco was presented the "New York State Magistrates Association's Amicus Curiae Award," which recognizes individuals other than members of the judiciary for extraordinary contributions to the Courts of New York State.
The major purposes of NYSMA are the maintenance and support of the local judiciary through education and coordination with the New York State agencies regarding laws and other matters affecting local courts, "The Courts Closest to The People." NYSMA works closely with the Office of Court Administration to assure the training enhances the professional development of the judges and is relevant to the practical situations encountered in the local courts.
Presentations over the four-day event were made by the Office of Justice Court Support, City, Town and Village Resource Center, The 5th Judicial District, Peter Gerstenzang, Esq., Onondaga Commissioner of Jurors, Onondaga District Attorneys Office, Commission of Judicial Conduct, Gary T. Kelder, Esq. Professor of Law for the Syracuse University College of Law, Office of Court Administration, NYS DEC Outreach Program, NYS OASAS, many town and village judges, as well as many of our officers and directors of the New York State Magistrates Association.
Submitted photo: Graber, right, is congratulated after being sworn in by Darien Town Justice Michael Davis.