February 26, 2014 - 10:27am
Defense and big game by Fagan carry Blue Devils past Newark in Section V playoff game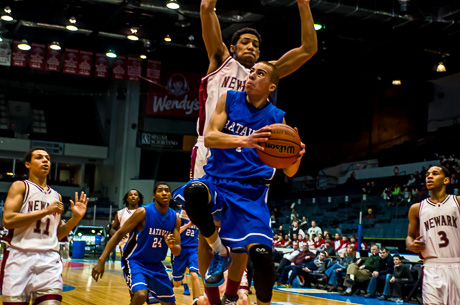 Memo to Brian Miller, head coach of the Geneva Panthers: If you want to beat Batavia in Sunday's Section V Class A2 Finals, you better figure out how to stop Justice Fagan and Jeff Redband.
Good luck with that.
Teams have been trying all year and stopping the Blue Devil's two standouts just gets harder and harder.
The Newark Reds tried Tuesday night at the Blue Cross Arena in Rochester and found themselves on the losing end of Fagan's biggest game of the year.
The senior captain scored 28 points as the Blue Devils punched their ticket for the finals with a 45-41 win over the #2 seed.
And by all accounts, Redband had an off night, with defenders constantly in his face, but he still managed 15 points.
"That's been happening all year (tight defensive coverage)," Redband said. "I didn't do the best with it this game. We had plays to get me the ball, I just wasn't making shots. I'll make them other games. We rode Justice because he was having the greatest game of his season tonight."
Fagan just took the game over in the closing minutes and with under two minutes left, the Blue Devils grabbed the lead and the Reds' fate seemed sealed.
As important as Fagan's big game was, it was really Batavia's defense that secured the victory.
Head Coach Buddy Brasky teaches his players, hold the opponent to less than 52 points and you will always have a chance to win.
The Blue Devils opened sectional play with a 56-37 win over Honeoye Falls-Lima three days ago, and against a Reds team that has put at least 60 points on the board nine times this season, Batavia pinned Newark down at only 41, holding them to 13 in the second half.
Brasky's team switched to a 3-2 zone defense and the Reds never got a handle on how to penetrate it.
"We've hardly played a 3-2 all year," Brasky said. "They (the Blue Devils) just picked it up on the fly and executed it well."
With the Reds left with few inside scoring opportunities, it also meant there were fewer opportunities for Batavia to draw fouls.
In the closing minute and a half, Batavia was shooting bonus free throws and had only committed four second-half fouls themselves. 
"We went to the zone and they didn't attacked it," Brasky said. "There was a lot of pass on the perimeter. They stopped going to the basket, so there wasn't a lot of opportunity for us to foul. They took a lot of outside shots. That's what the zone forced them to do. Justice started attacking. Jeff started attacking. We were going to the basket where they stopped going to the basket. That's the foul differential right there."
Redband went to the line twice and hit all four shots, while neither late-game foul by Batavia resulted in free throws for the Reds and Fagan made a crucial free throw to take away any hope of a three-pointer to tie the game.
"Jeff and Justice are 70-, 80-percent foul shooters," Brasky said. "They come to the school every morning before class and shoot 50 free throws. Every morning. When we've got them at the foul line at the end of games, I'm very confident."
The foul differential was a huge strategic advantage, especially when Batavia could afford another foul with 4.5 seconds left. In that situation, a quick three-pointer would have given Newark a slim hope for a steal and another score. Instead, two seconds were lost and Newark had to inbound the ball again. A desperation three missed the basket wide and short by three feet and went out of bounds with 0.8 seconds left. A simple Batavia inbound and the game was over.
Brasky said Fagan's confidence has been soaring since a big game against Lockport on Senior Night, and Tuesday night, he just took the team on his back and carried it to victory.
Fagan said that's his job.
"I'm the senior captain," Fagan said. "I didn't want this to be my last game of the year, or ever, actually. I just wanted to win this game. I kind of figured I needed to take over a little bit through the game because we were struggling a little bit offensively. Somebody's got to take over."
The only other Blue Devil to score against the Reds (who don't wear red, but maroon) was Jerret Lasket, who had two points.
A low-scoring affair is exactly the kind of game the Blue Devils like to play -- battle for 30 minutes and close it out at the end.
"In our games, we never do get down by a lot, usually, because we play good defense," Brasky said. "We've been in close games all year, so they have confidence in close games."
For Newark, Jaymee Rosser had 17 points. Tyler Collins, an outside shooting threat, tried, but was 1-6 from beyond the arc and was held to 10 points. Rosser was the top rebounder for the game with nine.
For Redband, Tuesday's visit to Blue Cross was his first since a season ago when he sent his team to the State's Final Four with a three-point buzzer beater.
The junior guard walked out to the same spot during warm ups and admitted taking a moment to reflect on the shot and later hit a practice shot from the same spot. He said he likes playing in the big gym.
"I'm comfortable playing here," Redband said. "With a lot of the new people, I just said it's a normal game. It doesn't matter that it's in this big stadium. You've just got to play basketball."
He also wasn't surprised his team is about to play for the Class A2 championship. The Blue Devils are where they're supposed to be.
"We've beat good teams all year so we knew all year we could be right here at sectionals in the finals," Redband said.
Game time Sunday at Blue Cross is 5 p.m.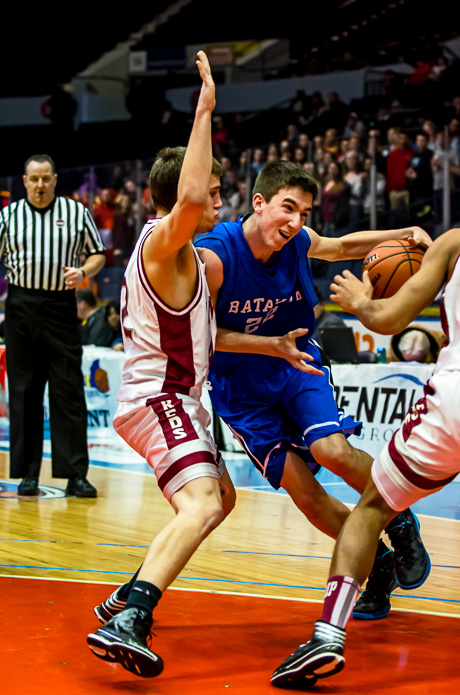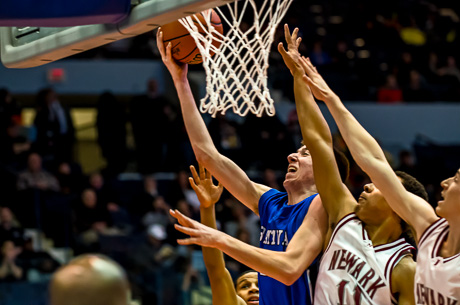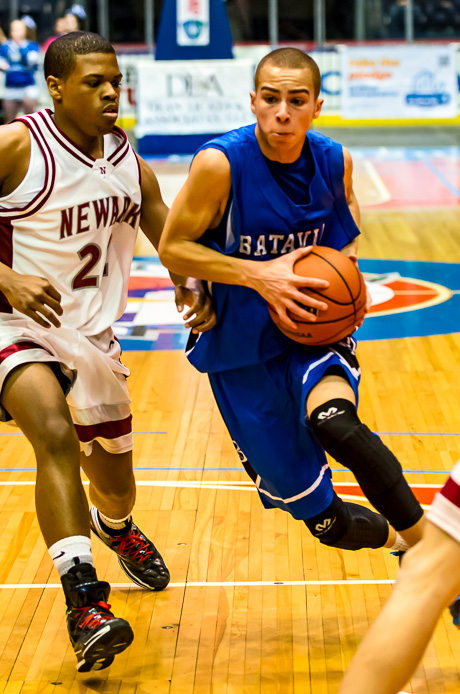 To purchase prints, click here.