July 12, 2014 - 11:20pm
Deputy Frank Bordonaro answers his final call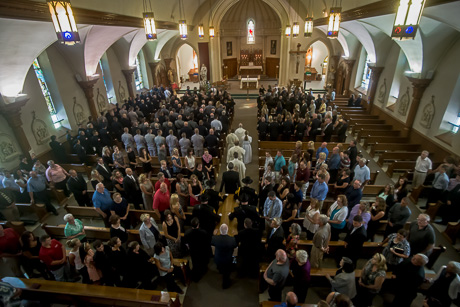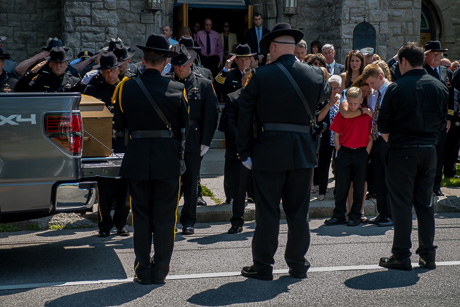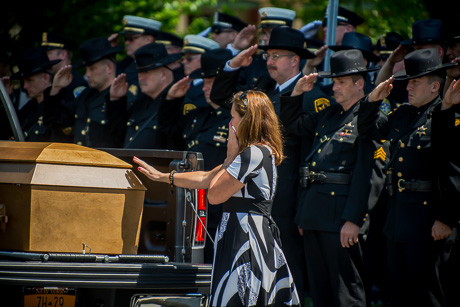 In his homily during the funeral service for Deputy Frank Bordonaro, Father Michael Donovan addressed Frank's sons directly.
The one thing he wanted them to remember, what should be part of the stories they tell of their dad someday, Donovan said, was the outpouring of respect, love and support of the friends, family and colleagues gathered in St. Peter's today.
Bordonaro, 44, a 19-year veteran of the Genesee County Sheriff's Office died July 8 of an apparent heart attack.
He leaves behind a wife, Robin, and two young sons, Bryce and Chase.
In a memorial letter read by funeral director Vern Falcone, Robin thanked Frank for raising his sons right and setting them on a good path.
Nearly every member of the Genesee County Sheriff's Office (all but those required to be on duty) was at the funeral. Several members of the Batavia Police Department, the Le Roy Police Department and the State Police were part of the honor guard that lined up in front of the church before and after the service.
Bordonaro's casket was carried to and from the church in his pickup truck.
The service centered around Matthew 25:34-40.
"Then the King will say to those on his right, 'Come, you who are blessed by my Father; take your inheritance, the kingdom prepared for you since the creation of the world. For I was hungry and you gave me something to eat, I was thirsty and you gave me something to drink, I was a stranger and you invited me in, I needed clothes and you clothed me, I was sick and you looked after me, I was in prison and you came to visit me.'
"Then the righteous will answer him, 'Lord, when did we see you hungry and feed you, or thirsty and give you something to drink? When did we see you a stranger and invite you in, or needing clothes and clothe you? When did we see you sick or in prison and go to visit you?'
"The King will reply, 'Truly I tell you, whatever you did for one of the least of these brothers and sisters of mine, you did for me.' "
Father Donovan noted that most people think of a police officer as just somebody who arrests people, but an officer of the law does so much more than that for his community. Deputy Frank Bordonaro, he said, was that kind of professional.
Deputy Bordonaro provided help to those he found hungry, or thirsty, or lonely and in need, or homeless, or sick. He provided help to those who needed it, and thereby lived the life Christ bade his disciples to follow.
That is the memory, Father Donovan said, that Bryce and Chase should hold of their father.
After the service, after the casket of Deputy Frank Bordonaro was driven away in his truck, the radios on the hips of emergency responders among those gathered on Lake Street, could be heard with the final dispatch for Deputy Frank Bordonaro. It was the only sound on the street until a Mercy Flight helicopter paid Deputy Bordonaro one last tribute with a pass over the church.
Listen (mp3).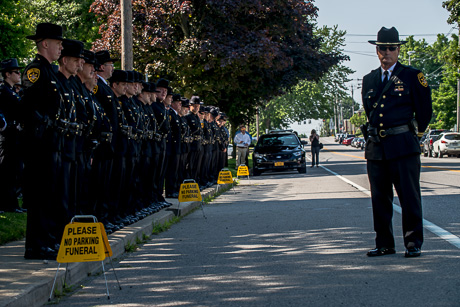 \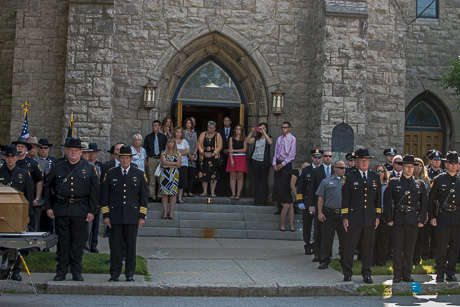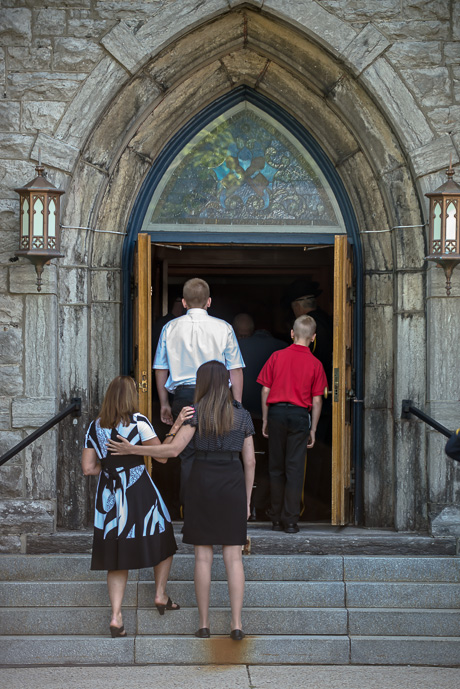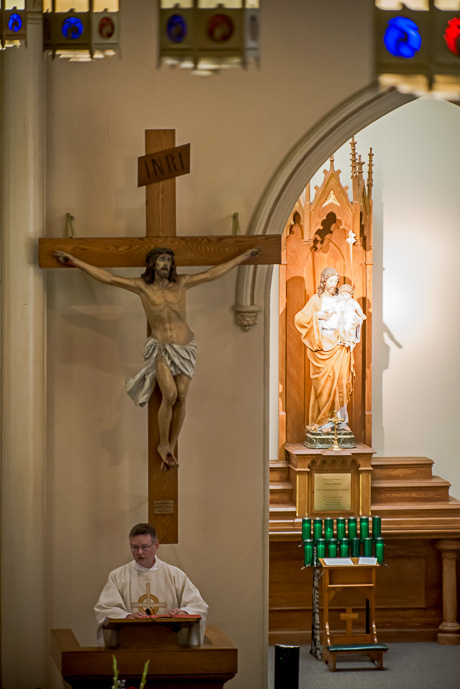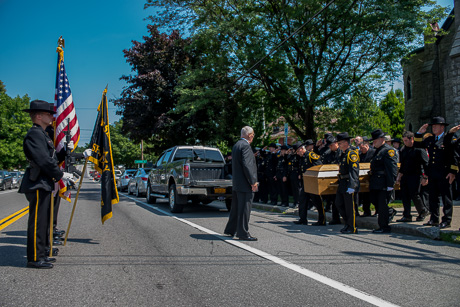 Below: The funeral procession passes under a flag on Route 19 that was lifted by ladder trucks from Le Roy and Bergen fire departments. Photo submitted by George Henry.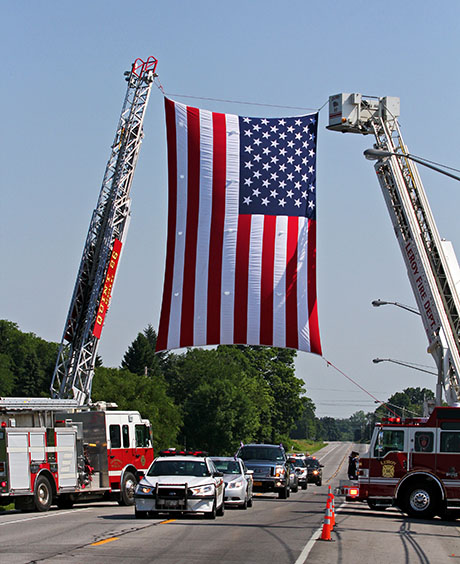 July 13, 2014 - 5:31am
#1
I am not sure if I knew Mr. Bordonaro?? I did Umpire HS Baseball several years ago with a Frank Bordonaro..,. In any event, this was a very moving ceremony, and served to honor this hero well. As ALL should be. A lot of credit should be given to you Howard for another job well done.
July 13, 2014 - 7:50am
#2
Fred is correct.....for all the complaints and petty shots taken at local law enforcement agencies here locally. They always seem to respond quickly and take care of even those who put them down. Yes we have crime and nuisances here. But having lived in Rochester. Syracuse, Watertown and Ithaca as well as here most doing the complaining have no concept of what really bad crime is like with a police force that does become a little inefficient because of being overwhelmed.
Rest In Peace Mr. Borodonaro, and thank you for your service to us all.
July 13, 2014 - 8:02am
#3
The officer was only 44? Sheesh - he was just a kid...
My thoughts go out to his family and friends.