July 29, 2012 - 2:41pm
Don Carroll grateful for community support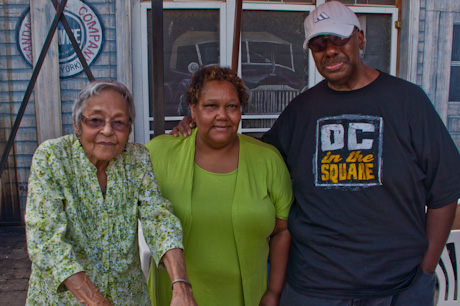 At times this afternoon, Don Carroll was overcome with emotion as people showed up for a charity event in Jackson Square called DC in the Square.
The event is aimed at raising funds to help Carroll, who has cancer, pay his medical bills.
Throughout his life, Carroll has given all he has to the community, especially children who don't grow up with financial advantages. Most recently, Carroll has sponsored Toys for Kids, an annual event to provide gifts for children.
DC in the Square was organized, with the help of many volunteers, by Beth Kemp.
Beth's husband, Brian, said he benefited from Carroll's charitable work because Carroll's annual 5K run years ago paid for Brian to go to summer camp.
Beth said, "He does so much for the community and never asks for anything back," adding, "I just think he's a great guy. He sets the example for the kind of person I want to be, always giving, never expecting anything back."
Carroll, pictured above with his sister, Diane, and friend, Harriett Everett, said all he ever wanted to do was make kids happy and he was so grateful for the community support during his battle with cancer.
"It just means so much," Carroll said. "There are some things that happen that I forget sometimes, but this I'll remember for the rest of my life."
Today's event goes until 4 p.m.