May 9, 2013 - 2:31pm
Elba man charged with burglary in Batavia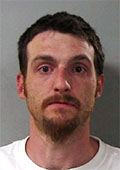 An Elba resident is accused of burglarizing an occupied residence at 1:40 a.m. on March 26 and he has been taken into custody.
Charged with burglary, 2nd, and grand larceny, 3rd, is 29-year-old Jon H. Bush Jr., of 7614 Oak Orchard Road, Elba.
Bush was arrested at Batavia City Court when he appeared on an unrelated matter.
Allegedly, Bush made off with a safe containing money and jewelry.
He was jailed on $20,000 bail.