April 23, 2014 - 9:24pm
Emergency dispatchers honored by Legislature for service to community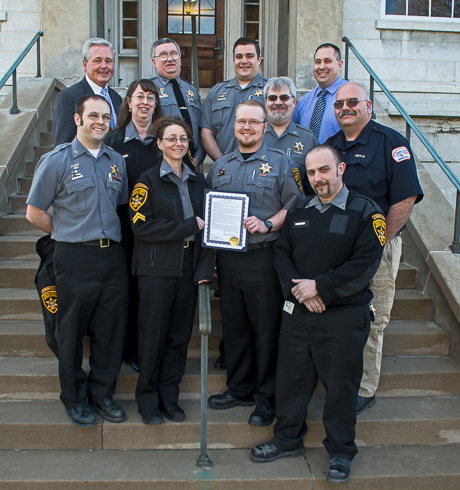 Genesee County's emergency dispatchers were honored this evening by the the County Legislature for their service to local residents as part of National Public Safety Telecommunicators' Week. The dispatchers were presented with a resolution honoring their work.
Undersheriff Bill Sheron told legislators, "They are the lifeline of Genesee County. They handle life and death everyday." Chairman Ray Cianfrini thanked them for their dedicated service.
Photo, bottom row from left: Robert Tripp, Beth Hynes-Fisher, Adam Miller, Nathan Fix, Lynn Riccobono, Daniel Rieks, Bill Sheron, John Spencer II, Jim Tripp, Jason Holman, Steve Sharpe.
Not pictured: Barbara Eddy, Michael Sheflin, Frank Riccobono, Steve Robinson, Steve Smelski, Peggy Richardson, Kelly Tripp, James Sheflin, Andy Merkel, Jenna Bauer and Zackery Czudak.