January 27, 2014 - 1:16pm
Family displaced following kitchen fire on Central Avenue early Sunday morning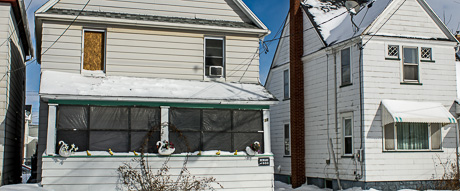 UPDATE 3:31 p.m. to clarify family information.
A family of three has been displaced and is being helped by the Red Cross after a structure fire early Sunday morning heavily damaged their kitchen and another room at 33 Central Ave., Batavia.
The fire started, said City Fire Chief Jim Maxwell, after a resident left cooking oil unattended while it heated. She intended to make chicken wings.
The fire was reported at 12:42 a.m.
The biggest concern, Maxwell said, was that the resident said her daughter may have been trapped in an upstairs bedroom.
Firefighters conducted two searches of the residence and were unable to locate the 16-year-old.
It turned out she was not home and was located and found safe a short time later.
All Batavia platoons were dispatched to the fire, with a total of 20 firefighters responding. No mutual aid from neighboring departments was requested. The fire department was back in service at 3:30 a.m.
The fire did extensive damage to the kitchen and an adjoining room. The structural damage was significant enough to require a code enforcement officer to condemn the house.
The fire caused $20,000 in damage.
Brycea Bolster and her family have been relocated to a local hotel for three days.
They also had three cats and a dog. The pets are all safe.
The property owner is Deborah Ruhland.
January 27, 2014 - 6:08pm
#1
Terrible for anyone who has this happen to them. The thing that pisses me off is why this mother has no clue where her 16 year old daughter is at 1:00 am in the morning.
January 27, 2014 - 8:17pm
#2
I went through it twice in Syracuse Jack.....27 and 29 both were lighting strikes to the buildings I was in. Probably why I am always wide awake for thunderstorms ever since
February 2, 2014 - 11:19am
#3
listen jack u dont know me or my family it just happens to be that my daughter wrote a note and left it on the kitchen table. apperently i didnt get the note because the kitchen table caught on fire,along with all my other things, so til you know the truth leave me and my family alone weve gone through hell and back now.