September 3, 2014 - 7:52pm
Football Preview: Pembroke working hard to get ready for 2014 campaign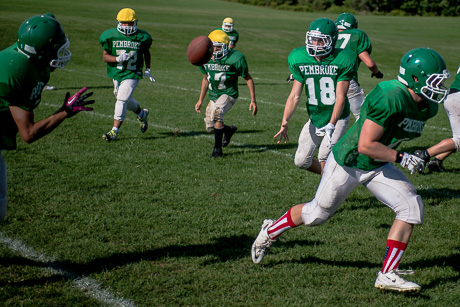 Pembroke Head Coach Dick Dimincuco has been working hard all pre-season to get the Dragons ready to take the field in 2014 and what he sees two days before opening kickoff against Elba is a team that's still a work in progress.
But the emphasis is on the word "work."
"We have nice group of kids who work hard and come every day and try to get it done," Dimincuco said. "Obviously, that's a strength. We need to get a little better at what we do on the field, and they're going to do that because they work hard and listen."
The Dragons are coming off a 2-6 season and the program hasn't had a winning record since 2010 (5-3).
The team will rally around QB Mitch Lewter, a senior in the role of offensive field manager for the first time. He won't be without weapons. Senior Dakota Swimline returns to wide out and running back and senior Cal Neurohr will share backfield time as well as play linebacker.
The offensive and defensive lines will be anchored by 6-foot, 225-pound junior Jack Thomas.
"He's a big tackle and good football player," Dimincuco said.