June 2, 2014 - 8:37am
Former Batavia resident, Iraq War veteran dies during training at Fort Bragg
posted by
Howard B. Owens
in
batavia
.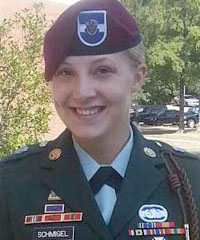 The Army is investigating the death of 21-year-old Paratrooper Shaina Schmigel, who grew up in Batavia before moving to Medina.
Schmigel was found unresponsive during a jump at Fort Bragg in North Carolina.
She enlisted in the Army four years ago after graduating from Medina High School in 2010. She was promoted to sergeant in January and recently committed to four more years with the Army, Krissi Gress, a friend of the family, told OrleansHub.
In a statement, Army officials said, "All of the Paratroopers in the brigade are deeply saddened by the loss of an extraordinary and much-respected member of our team," said Lt. Col. Albert Paquin, commander of the 2nd BCT. "Our thoughts and prayers are with her family and friends during this time of great loss. Our chaplains and our health care professionals are available to help comfort and support all of her fellow Paratroopers affected by this tragedy."
As a paratrooper in the Army, she deployed to Iraq in support of Operation New Dawn from July to November 2011.
Her awards and decorations include the Army Achievement Medal with one oak leaf cluster, the Army Good Conduct Medal, the National Defense Service Medal, the Iraq Campaign Medal, the Global War on Terrorism Service Medal, the Noncommissioned Officer Professional Development Ribbon, the Army Service Ribbon, and the Parachutist Badge.
The Michael S. Tomaszewski Funeral & Cremation Chapel in Batavia will be handling funeral arrangements.
Thank you to Tom Rivers of OrleansHub with coverage of this story.
Rest in peace Shaina and thank you for your service.
Shaina is a shining example to all of the youth today of the fact that you can rise from humble beginnings in life. I did not have the pleasure of knowing her, but my wife was her babysitter and when she was older she babysat my stepsons as well. So I hope her family forgives me for speaking as if I knew her...
Just from the emotions in this house and the stories I have heard I grieve at her families loss as if I did know her. Being a vet of the armed forces she was a sister in arms, so I feel the need to say what I have and share this quote from Norman Schartzkof.
I will paraphrase it and share it in Shania's memory as it applies to her and everyone that passes while in the service of our country.
"It doesn't take a hero to order people into battle. It takes a hero to be one of those people who goes into battle."
At Ease Sgt....