March 29, 2014 - 9:33pm
Former Batavia resident in Texas accused of plotting an insurgency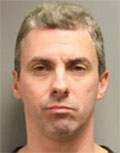 Robert Talbot
A former Batavia resident has been arrested by federal authorities in Texas, accused of plotting against the U.S. Government.
Robert J. Talbot, 42, allegedly was plotting to blow up buildings and kill cops once he convinced people to join him in his American Insurgent Movement.
Friday, Talbot was arraigned in Federal Court in Houston, near where he was living, and charged with illegal possession of explosive materials and interfering with commerce by threats of violence.
FBI agents tracked Talbot for eight months, in person and online, apparently going undercover and winning his trust, convincing him he was picking up followers.
That's how you isolate a "lone wolf" one agent told the Houston Chronicle to help contain their activity.
Authorities say Talbot went beyond angry rants.
He allegedlly staked out banks and armored cars and was plotting a possible robbery to fund his movement. He allegedly researched explosives and asked undercover agents for help in obtaining explosives.
Talbot was taken into custody by a SWAT team while allegedly heading to the location of a planned armored car robbery.
"I would say he had the will, said Assistant U.S. Attorney Carolyn Ferko. "He was absolutely determined."
March 30, 2014 - 12:57pm
#6
Alvin, please learn how to look at and read the source article before before you start a cop bashing rant.
"He was formally advised of the charges, including illegal possession of explosive materials and interfering with commerce by threats of violence. Talbot could spend up to 20 years in prison if convicted.
Before being arrested Thursday by an FBI SWAT team while allegedly on the way to an armored car robbery in northwest Harris County, authorities said, Talbot shared a written battle cry:"
Those are two sections from the source article.
Hmmmm, already was in possession of explosives and was caught while apparently in route to rob an amored car. Yeah, SWAT seems resonable to me.
The article states they are unclear if he had any other associates or other stashes of explosives or weapons. My guess is that they were trying to get all this information and that the investigation would have continued for quite some more time to answer those questions. This armored car robbery (apparent) forced the agents hands. They had to act to prevent someone from getting hurt.
READ all the information first, before making a dumb cop bashing statement!