January 14, 2014 - 3:37pm
Former court clerk in Corfu can avoid prison if she stays out of trouble for 11 months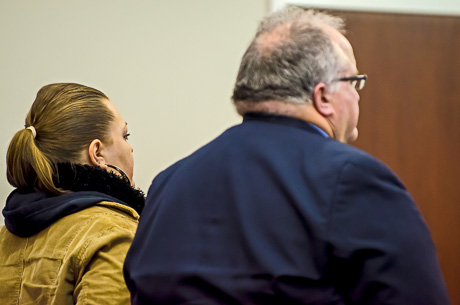 In accordance with her plea agreement, Brandi Watts, the former Village of Corfu court clerk who stole more than $10,000 in court funds, was given 11 months to show she can stay out of trouble.
If she does, she will be sentenced Dec. 15 on a lesser included offense and serve a year on probation with the chance to have all charges dismissed.
Watts, who entered a guilty plea in October to one count of tampering with government records, a Class D felony, also paid $10,128.
The only drama, if you want to call it that, in court today was special prosecutor Donald O'Geen addressing a request by the Village of Corfu for additional restitution.
"There is claim for thousand and thousands of dollars more the Village of Corfu seeks," O'Geen said. "In my opinion the correct legal amount that the village can recover if there were a restitution hearing has been recovered. There's a lot of emotion and a lot of built up frustration and there are expenses they feel they shouldn't have to pay. I'm confident in the number, but I completely understand the frustration in the Village of Coruf."
Watts said nothing prior to Judge Robert C. Noonan ordering her back Dec. 15.
"If she violates the terms of probation, the probation department will notify me immediately and we'll be right back in here," Noonan said.
The case against Watts became a public controversy after the state comptroller's office released a report showing numerous financial irregularities in the village court's bookkeeping. For more than a year the village tried to pursue a case against Watts and her father and former boss in the village court, former justice Robert Alexander. 
As the judicial review commissions proceedings dragged on and no, the village tried to recover funds and get a criminal case to move forward.
In the process, the village incurred thousands of dollars in legal expenses and that's the money the village would still like to have Watts pay in restitution.
O'Geen said he doesn't believe that money would be awarded to the village in a restitution hearing.
Alexander, who also served as the Town of Pembroke justice, has resigned from office and is barred from ever seeking a court position again. As part of the plea bargain, criminal charges against Alexander where dropped, which included coercion and official misconduct for allegedly harassing another court clerk.