March 28, 2013 - 6:12pm
Former inmate recalls his own medical emergency while confined in Genesee County Jail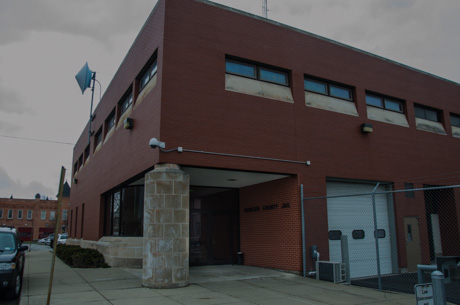 The story this morning of an inmate who died while in Genesee County Jail custody had a familiar ring to it for a local man who spent four months in the jail back in 2001.
After developing apparent health problems, it took the Batavia resident days to get in to see a nurse, he said, and then she told him he had hemorrhoids and sent him back to his cell.
Days later and after more complaints, she saw him again and gave him suppositories.
After a month of illness and little to no treatment by jail staff, the man said, he collapsed on the jailhouse floor and was taken by ambulance to UMMC.
There, Dr. Bernard Asher found that he had advanced colitis and would soon lose his colon without proper treatment. He was transferred to ECMC for acute hospital care.
The local resident asked that we not use his name to protect his privacy, but he provided us with documentation to support his claim (PDF).
He said he came forward not because he's looking to embarrass anybody at the jail or in the Sheriff's Office, but he just thought people should know what he went through in light of the report on Nikko Gambino's death.
"I'm just saying something like this happened," the man said. "I was diagnosed the wrong way. It wasn't right, but I don't want to get back at them right now."
A year ago, the man spent two weekends in jail on a second-degree harassment charge (he sent a couple of text messages that he shouldn't have sent, he said) and said the same nurse that he saw in 2001 was still working at the jail.
In 2001, the man was jailed on an attempted burglary charge, which stemmed not from a theft case, but because he entered the dwelling of his ex-wife and child without permission, which was a violation of a court order.
"It was a domestic case," he said. "I was young and stupid and chasing love, or what I thought was love."
He eventually spent 20 months in state prison and was on parole for three years.
He said when he saw the Gambino story, he thought, "Man this is crazy and I know what it's like. I'm sure they didn't give him the treatment he needed."
He said he's seen correction officers deny some inmates a chance to see a nurse.
"I'm never a jerk and I understand COs are just doing their jobs," he said. "Other inmates, if a CO had a problem with them, the person wouldn't get to see a nurse.
"I think if you want to see a nurse, you should be able to see a nurse -- to see if you have a problem," he added.
The former inmate said his symptoms during the month prior to his hospitalization included a 40-pound weight loss, severe abdominal pain, blood in his stool and the loss of a lot of blood, yet he was only allowed to see a physician after he collapsed from not eating or drinking and all the pain.
He said if he'd sued back then, maybe he could have saved a life.
"I met with Charlie Mancuso," he said. "We talked about it. He was going to file a suit, but he never did and then he passed away. I never pursued anything (after he passed)."
Sheriff Gary Maha is not familiar with this particular case at this point, but he would look into it if the man would come forward and talk with him. He said everything is documented and he would investigate the complaint if given more information.
We asked Maha if he's received complaints outside of this case and the Gambino case from inmates who say they're not getting proper medical care.
"You always get complaints," Maha said. "They feel they want the best surgeon in the State of New York and the taxpayers are supposed to pay for it. That's not the case. We give them whatever services are needed and prescribed by the doctor. If you come into the jail and say you need a new pair of glasses, we're not going to give you a new pair of glasses unless a doctor says you need a new pair of glasses."
Maha said it costs taxpayers about $200,000 a year to provide medical care to inmates at the Genesee County Jail.
"Everyday people come through there who abused drugs or have mental health issues," Maha said. "It's a difficult population to deal with and it's a costly population to deal with. It's something we try to manage as best we can."
Following the Gambino case, Maha said he met with the jail staff and Director Ed Minardo and new procedures and protocols have been developed.
All opiate use and withdrawal cases are monitored now on a daily basis, he said, and all medical procedures have been examined and updated.
He said he is confident in the skill and training of the jail's medical staff.
"They've been around a long time and they've been in business a long time," Maha said. "Thye're a good staff. Again, we have to update the protocols, but they give a lot better care to an inmate in the jail than they would get on the street, I can tell you that."
UPDATE: Looking back over things this morning, I feel I should note that Dr. Asher's note contradicts the recollection of the source in two ways. The health issue was ongoing for two months before Dr. Asher saw the patient, and Dr. Asher notes that the patient additionally received two visits to the ER, which also failed to lead to a diagnosis of colitis.
UPDATE: The source explains, he doesn't think it was a whole two months, but it may have been longer than a month. His two trips to the ER occurred after his mother contacted his primary care physician and the physician requested the visits, he said. He also confirmed he believes he was misdiagnosed at the ER on those two visits.
March 29, 2013 - 10:01am
#2
When you make a mistake, I've found, it's best to quickly admit it and move on. Litigation may make that impractical for the sheriff at present, but I think that his defiant stance with regards to the state's findings (in the recent case) is not productive.
Nothing against nurses, but anybody stating a medical emergency and asking to see a doctor should be given the benefit of the doubt, and necessary medication should not be deprived. If we can find some way to hold inmates accountable for the costs of their own care, great. Regardless, I think the jail needs to approach medical emergencies as we do in the larger society: when somebody claims to be experiencing a medical emergency, they get to see a doctor. Not just when they finally collapse unconscious. It maybe saves a life and perhaps shifts some liability.
It can't be fun to be in a position of having to spin the state's findings of gross incompetence and gross negligence as if those were things that could be dismissed out of hand. Yeah a hard drug user is chiefly responsible for his own health consequences but heroin withdrawal is only life threatening when grossly mismanaged.
Note that I've edited the above comment after today's updates.