July 22, 2013 - 4:49pm
Former village justice Robert Alexander says he would never do anything to hurt the people of Corfu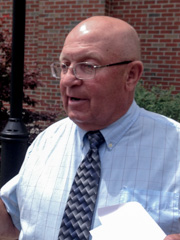 Former Village of Corfu justice Robert Alexander said after his appearance in County Court this afternoon that he would never, ever, do anything to hurt the people of his lifelong hometown.
Alexander would not discuss the specifics of the case against him -- he's charged with coercion and official misconduct -- but reiterated in a short statement to media gathered outside the courthouse that he's a born-again Christian and that he wouldn't break the law.
"I had the privileged of serving in the Village of Corfu for 24 years," Alexander said. "I grew up there. I love that village, and when I see people or hear people in social media or on television or anything like that say anything about a case, I say, let a case run its course, number one, but number two, the wonderful people of Corfu shouldn't have to be put through all those kinds of things where it's played out in the media versus where it's played out in a court."
Asked whether he would take the case against him to trial, Alexander said that's something for him and his attorney to discuss and otherwise declined to comment.
The changes stem from what may have been an alleged attempt by Alexander to clear the name of his daughter, Brandi Watts.
Watts worked for Alexander as his court clerk from 2009 to 2011.
After Watts was named in a NYS comptroller's audit that allegedly found the court was missing more than $10,000 in funds, Alexander reportedly asked his new court clerk, Pam Yasses, to audit the court books. Yasses reportedly completed the audit and found the court was missing funds.
According to Yasses, who spoke about the situation at an Oct. 8 meeting of village trustees, Alexander did not accept the results of the new audit and Yasses complained that Alexander was trying to intimidate her and get her to quit her job.
The allegations against Alexander reportedly stem from that incident.
Alexander denied breaking the law.
"I won't say anything about the case, except I will only say I love the people of Corfu and never do anytihng, as a born-again Christian, as a man serving them, I would never even think of breaking the law in any way, shape or form, no less doing it," Alexander said. "I would certainly would never, ever, ever want to bring anything that would hurt those people that I served for 24 years. We'll let it play out in court."
Alexander also told reporters, "I'm a Christian, I believe in Jesus Christ and I believe in the end I will be vindicated."
Neither Watts nor Alexander entered a plea today and both are scheduled to reappear at 2:15 p.m., Aug. 12, in County Court.
July 23, 2013 - 1:25pm
#12
Nicholas, he might have known, and maybe not. It would not be the first time a family member committed a crime and other family members did not know about it. And maybe he did try to interfere, but I don't know for sure.
He might be guilty as hell, but maybe not. That's my point. But if he is found guilt, then I hope he gets hammered by the court.