July 6, 2014 - 12:37am
Frost Ridge owners experience outpouring of community support after devastating fire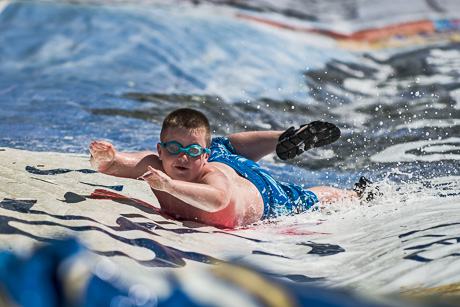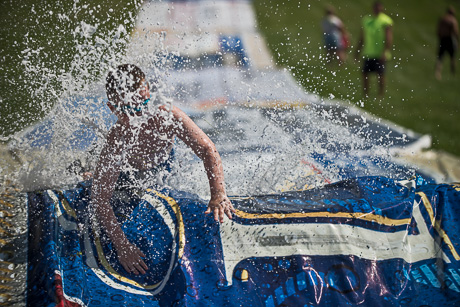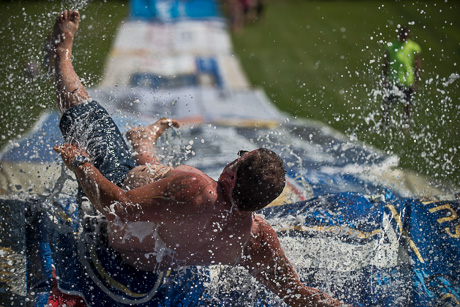 While David Luetticke-Archbell chatted with one of the many well-wishers who stopped in his shop at Frost Ridge Campground on Saturday afternoon, he looked out the window and up the hill that traditionally has been a ski slope, but was on this sunny summer day a slip-and-slide.
Children and adults hollered as another slider managed to make it down the hill in a well-worn groove in the middle of the slide and flew over the hump at the end of the run. 
David smiled.
"I always say, 'this is a fun place,' " David said. "This is what it's all about. I look out and I see people having fun and it takes kind of some of the sting out of it. We lost some stuff, but this is why we're here, so we can have fun. We'll continue on. At least I plan to."
David and his partner Greg moved to Le Roy from San Diego in 2008 to purchase Frost Ridge and run it as a place where people could have fun.
They've built a successful business by offering personal service, great events and even live music.
It's all been jeopardized by the lawsuits of two neighboring couples and the Town of Le Roy. The suits aim to put the Luetticke-Archbells out of business.
In the stress of it all, Greg has had two heart attacks.
Then last night, they lost their home to fire. It was a home to David and Greg and their three children and dog Sadie. It contained, David said, everything that was important to them.
News of the disaster has spread among Frost Ridge supporters quickly. They've rallied to offer David and Greg both moral and monetary support.
"People have come from everywhere, even people I barely even know, have come to say we support you, we're praying for you," David said. "I've been handed two envelopes with cash in them. I have no idea who it came from, and they don't want me to know, and I'm sure there's more I don't know about."
Stacy Ward, a Frost Ridge employee, was standing nearby and said, "yes, there's more."
David, at that point, didn't know that campers had passed the hat that morning and collected $1,300 and already went shopping to buy clothing for David, Greg and their children.
He also didn't know at that point about a donation Web site that has been set up for them. So far, it's raised more than $1,600 in cash donations.
Even with the donations of money, clothing and toys David knew about this morning, he was still having a hard time taking it all in -- especially on only an hour's sleep.
"It's surreal," he said. "I'm not used to these kind of things. I don't know what to say. It's a very humbling experience."
Ernie Campoli, a seasonal camper at Frost Ridge, organized the fundraiser Saturday morning and said everybody felt it was the right thing to do.
"They're going through a tough time," Campoli said. "The town is messing with them. They just lost everything in their house, so we wanted to do something nice for them. They do nice things for everybody in the campground. We just want to show our appreciation and help out where we could."
When we spoke this afternoon, Greg was still at Strong hospital, but "screaming to get out," David said. David expected to check him out of the hospital in the afternoon. He seems to be doing well after being taken in for observation the night before because he was shaking so much after coming home to the fire just after 12:30 a.m.
Sadie is still missing.
Jim Bouton, with Genesee County Emergency Services, was at the house this morning, digging through the rubble, looking for any clues that might reveal how the fire started.
No cause has been found yet and the investigation could take days or longer.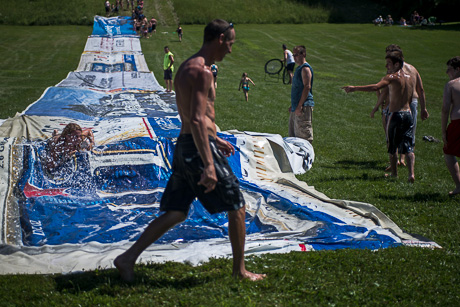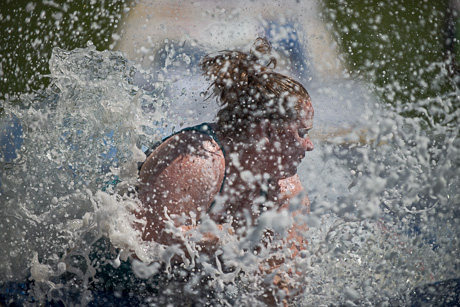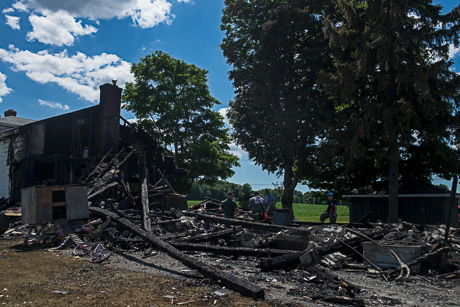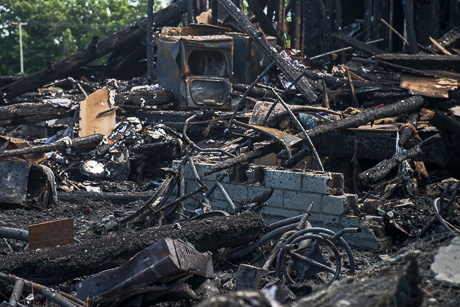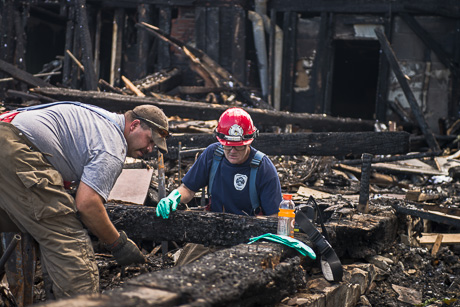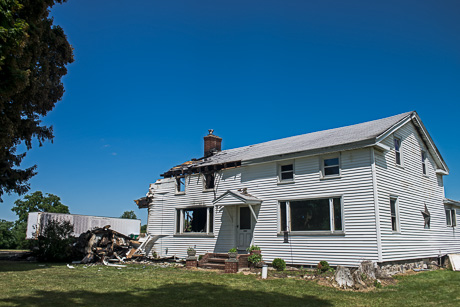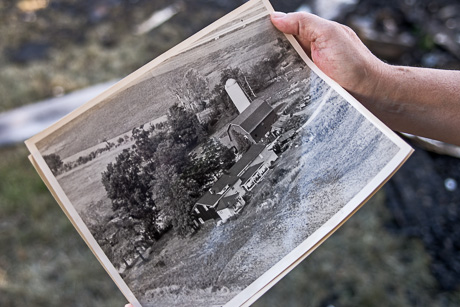 Deborah Buchanan holds a 1960s era photo of the house. Her husband, Mark, joined the investigators in the rubble for a time pointing out the floor plan. His grandfather bought the farm the house was on in the 1940s and Mark lived in the house from 1949 to 1976, when he got married. He and his wife live in a house just a couple hundred yards to the west. The farm was originally owned by Fritz Conlon. It was a dairy farm until the 1960s and then a crop farm. Mark proudly pointed to the chimney and noted that it was still standing. His grandfather, a master mason, built it, he said. "It's not going to burn the house down. It was built right," he said.