February 14, 2014 - 7:56pm
Gas station robber enters guilty plea in County Court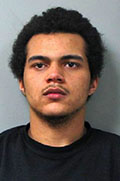 Edward Wood
Justice has been swift for Edward Wood III.
When he robbed the Sunoco gas station on West Main Street on Jan. 21, police had him in custody three minutes after being dispatched to the scene.
Today, less than a month after the robbery, the 21-year-old Batavia resident who used an Airsoft gun in the commission of his crime, admitted his guilt before Judge Robert C. Noonan.
Wood entered a guilty plea to attempted robbery, 2nd, a slightly reduced charge from the original count of robbery in the second degree, menacing, 2nd, and criminal mischief, 4th. The plea also satisfies two pending, unrelated misdemeanor charges.
While the plea still exposes Wood up to a potential seven years in prison, the reduced charge -- since he has no prior felony conviction -- also leaves open the possibility of a probationary sentence.
Sentencing will be March 12.
He remains jailed on $25,000 cash bail or $50,000 bond.
February 14, 2014 - 9:01pm
#1
I am on the fence with this one. He has an awful lot to prove to society and himself. We all were young and did stupid things , but this exceeded that by a stretch. We will have to see how judge noonan feels about it. Will he be a career criminal ???? Or, did he make a really stupid mistake and hopefully become a productive member of society???Time tells all!