December 3, 2013 - 4:00pm
GCC announces death of college's second president, Cornelius Robbins
Press release: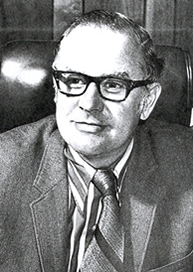 Dr. Cornelius V. Robbins, the second president of Genesee Community College, died over the weekend, in Delmar, New York, where he lived with his wife, Janet. He was 82 years old.
Dr. Robbins served as president from 1970 to 1975, succeeding Dr. Alfred C. O'Connell, the College's founding president. Dr. O'Connell died in 2011. Under Dr. Robbins' leadership, the current Batavia Campus opened, replacing the temporary storefront campus on West Main Street Road.
Prior to his arrival at Genesee, Dr. Robbins served as dean of the Community College of Delaware County (Pennsylvania), dean of instruction at Ocean County College (New Jersey), member of the consulting staff of the Washington, D.C.-based McManis Associates, an educational consulting organization, and associate director of the School Study Councils at the University of Pennsylvania. He also served as a secondary school teacher early in his career. He earned undergraduate and graduate degrees from the University of Delaware and his doctorate in education from the University of Pennsylvania in 1964.
While serving at Genesee Community College, Dr. Robbins became actively involved in community life, serving as an office of the Chamber of Commerce, board member of the United Fund (currently Genesee Country United Way), United Fund campaign chair and as a volunteer and member of many other charitable and civic organizations.
Dr. Robbins left Genesee Community College in 1975 to serve as associate chancellor for Community Colleges in the SUNY Central Administration. He later served as president of SUNY Cobleskill and following that, served as a professor of Educational Administration and Policy Studies at the University at Albany.
Genesee's current president, Dr. James M. Sunser, called Dr. Robbins one of the College's pioneers: "Neal Robbins was another of the early pioneers who left an important mark on the history of Genesee Community College. It was under his leadership that the faculty, staff and student body moved from temporary quarters on the west side of Batavia to our beautiful Batavia Campus. He was known for his commitment to academic excellence, and those who knew Neal remember him as an engaging leader. Genesee Community College is a wonderful part of his legacy."
December 4, 2013 - 2:13am
#1
Sad news. Dr. Robbins was a critical player in the early history of the college.