March 27, 2014 - 6:34pm
Genesee ARC celebrates 'Gives Back Week'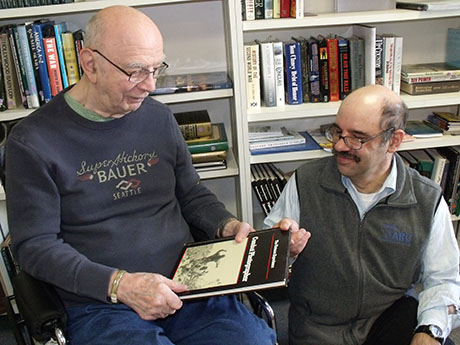 Press release:
This is "Gives Back Week" at Genesee ARC, an opportunity to highlight ways individuals served by the local nonprofit help make a difference to other community organizations.  Each ARC Chapter shared a success story for the 2014 Statewide Gives Back publication and Genesee ARC chose to feature Marty, a longtime volunteer at the New York State Veterans Home.
Since 1999 Marty has logged nearly 1,400 hours as a Physical Therapy volunteer at the New York State Veterans Home in Batavia. Each Thursday, he and his Mom, Joan, visit the home to honor and give back to the men and women who so proudly served the United States of America. Marty helps by transporting residents to and from their therapy appointments and both he and Joan assist with housekeeping and clerical duties. They are accompanied by their dog Gator who is known and loved by all of the residents. Marty looks forward to the weekly visits and feels good about helping others.
"I like helping out, I have a lot of friends here," Marty said.
He greets staff and residents by name, sharing a hello and his heart-warming laughter.   Marty is a valued member of the volunteer team, and considers the Veterans Home his "second family." When asked what kind of impact Marty has on the residents, NYS Veterans Home Volunteer Director Connie Caselli said, "The residents look forward to seeing Marty. He's a real pleasure and so passionate about volunteering."
In addition to Marty's volunteer work at the New York State Veterans Home, individuals at Genesee ARC participate in a variety of other community volunteer placements including:  Assisting with table set-up at the Office for the Aging; Meals on Wheels delivery; Salvation Army Toy Drive collection and bell ringing; Cafeteria aide at a local elementary school; Organizing, sorting and washing books in the children's room at Richmond Memorial Library; Visiting and interacting with the Human Services Class at Genesee Valley Educational Partnership; Helping to fill 100 backpacks weekly for the United Way Backpack (food) program; Making and delivering homemade cat and dog treats for the Genesee County Animal Shelter and cleaning the cat cages, interacting and playing with the Shelter animals; Adaptive bowling and visiting residents at the Genesee County Nursing Home;  Daycare Childcare Aide; Serving and cleaning at Stephen's Table Soup Kitchen; Making and delivering coloring books for local pediatricians' waiting rooms; Collecting needed items for Eagle Star Housing; Straightening clothes and organizing racks at the WYCA's My Sister's Closet; assistance with cleaning at the Elba Fire Department, Northgate Church and the Bergen First Presbyterian Church.
Genesee ARC is always looking for meaningful volunteer placements or projects for individuals, giving them an opportunity to make a difference and "give back" to the community. If you have a volunteer placement or project idea, please send it to Genesee ARC Director of Development Shelley Falitico at [email protected].