January 9, 2013 - 4:33pm
Genesee ARC in the mix of bids for modernized trash service in Batavia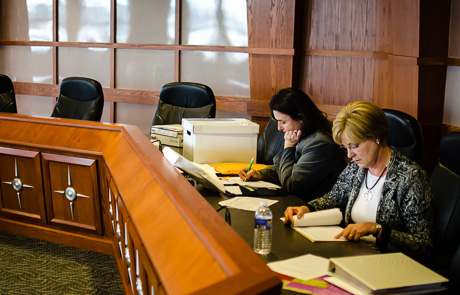 In conjunction with two partners, Genesee ARC submitted a bid to continue providing the City of Batavia garbage and recycling service.
Donna Saskowski, executive director of the ARC, sat through the bid opening at city hall today and characterized her agency's bid as "somewhere in the middle."
But, she said, the city's decision doesn't just come down to price. It's also a matter of being responsive to the bid specifications and she thinks ARC delivers value to the city beyond just price.
"I would hope they could give us a real fair hearing in terms of our value-added items that we will do for the city, keeping people employed here," Saskowski said.
She added that the agency's partners on the project, Boon and Son and Cascade Recovery, also add value to the package; Cascade, in particular, which can sell recyclables anywhere in the world.
"They want a share of that revenue and the city can get more than they ask for if they work with us," Saskowski said.
In the public meeting to open the bids, Director of Public Works Sally Kuzon read each bid for garbage collection and the purchase of totes (two separate bids). A city staff member recorded the bids. When asked for a copy of the record of bids, Kuzon declined to provide a copy to the media.
Saskowski shared ARC's bid, which for refuse collection is $102.97 per parcel per year and $60.13 for recycling. Refuse disposal is $42.50 per ton.
In response to a FOIL request for the rest of the bids, City Clerk Heider Parker said, "This information will be available within 20 business days but I will notify you if it is available sooner."
Deciding to proceed with a bid was a big decision for Genesee ARC, which has provided the city with garbage collection services for 30 years. City officials are seeking to create a new program that is more automated and encourages recycling. ARC is partnering with Boon to provide the trucks necessary for tote pick-ups and with Cascade to help market recyclable material.
"We decided to go ahead because we still have people with disabilities and people in Genesee County who still need jobs here," Saskowski said. "That was my major motivation."
Sean Mason, an environmental sales specialist representing one of the tote manufacturers bidding on the job, Rehrig Pacific, said his company is motivated to help communities improve what they send into the waste stream. Rehrig Pacific has been making totes for 13 years and been in the plastics business for 100 years.
"We're always looking to increase our footprint and to help communities increase their recycling rate and increase the participation per household," Mason said (pictured below with coworker Jason Gimlin).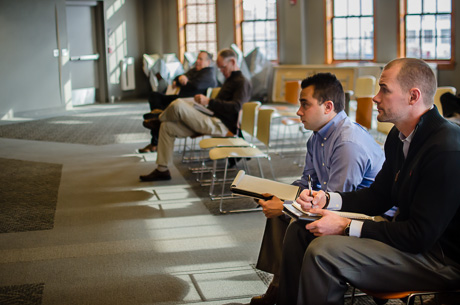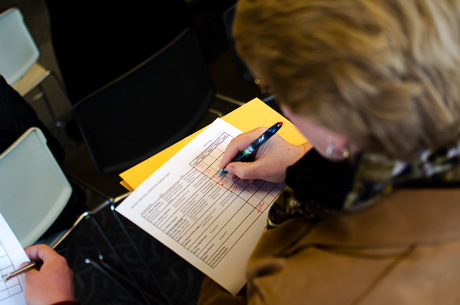 January 9, 2013 - 6:47pm
#1
Genesee County ARC employees are very dedicated to their job in going above and beyond to assist the public in anyway possible. I know for a fact that someone who was disabled at the time and could not get their recyclables to the cub in time for the pickup, they called the recycling center and explained the situation and within a half hour they came back to get their items and went to the door so the person did not have to go out. Where else are you going to get that service in these days. I personallly know a small handful of the clients that work on the trash and recycling trucks and they take such pride in their work. I would hate to see money get in the way of takeing that pride away from those individuals. City of Batavia, please think this thru and do not allow 30 years of good prompt service go to waste. Thank you.