July 4, 2012 - 12:08pm
Gillibrand tours Alpina, says she's excited by signs of local economic growth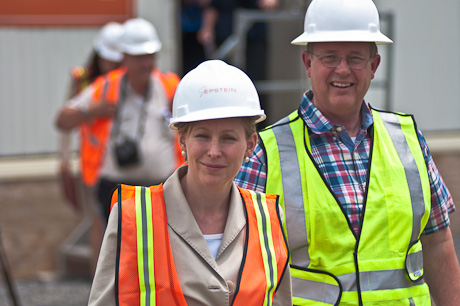 Sen. Kirsten Gillibrand spent some time in Western New York on Tuesday, including at least two stops in Batavia.
Gillibrand met with area Democratic leaders for lunch at Larry's Steakhouse and then toured the Alpina Products factory under construction at the Genesee Valley Agri-Business Park.
The facility, which will produce Greek yogurt and other dairy products, is nearing completion and should open in late August or September.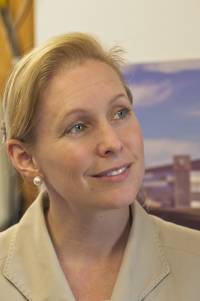 Gillibrand said seeing what is happening at the ag park -- which includes construction of a dairy production facility across the road from Alpina by PepsiCo and the Theo Muller Group -- is "really exciting."
"It's such an opportunity for agricultural growth in this region," Gillibrand said. "Not only is Greek yogurt production one of the fastest growing products in New York, but nationwide, and it's so well located with all of our dairies that are so close by. It makes business sense. Not only do we have a great workforce, but we have a great product, so it's going to be exciting to create these jobs, to have this industry grow in Western New York."
While there's been conflicting reports on whether New York dairies can produce enough milk to meet the demands of the new and existing Greek yogurt factories in the state, Gillibrand said she believes the dairies can meet the demand.
She said she has also introduced legislation to help New York's small dairies increase production without driving up their insurance costs.
Currently, if a small dairy wants to add a significant number of milk-producing cows, they're going to hit a cap on production imposed by insurance rules.
Gillibrand's legislation would remove the cap.
"That might give the ability of a small dairy to go up to 300 or 400 cows to meet the needs of their customers," Gillibrand said. "That would make a big difference for these projects."
Yogurt producers, Gillibrand said, don't want the expense of trucking in milk from other states to keep their production lines going and her legislation would keep the local milk flowing, she said, adding that there would be no regulatory burdens for small dairies to grow to meet local demand.
Steve Hyde, CEO of Genesee County Economic Development Center, also introduced Gillibrand to the STAMP project -- the 1,300 acre high-tech/nano-tech park that has been in planning for five years.
The senator took quite an interest in the project. She noted that with New York's previous success in Luther Forest -- the nano-tech corridor developing between Buffalo and Albany -- the surrounding technology-oriented university system, and the investment already made in the project, STAMP has a good chance to attract major manufacturers.
It was a validation of how the community and region came together on the ag park to have Gillibrand in Batavia on Tuesday to tour the Alpina facility.
"It's really kind of heartwarming because this ag park was really nine-and-a-half years in the making," Hyde said. "Once we found a way to get it all done, get it funded, get it built, having two very significant manufacturing projects land in our back yard – like we talked about today, talk about the multiplier effect, Alpina's working with OA-T-KA, and Stueben Food and a company in Rochester on packaging -- it's just really really awesome."