May 15, 2014 - 5:45pm
Grand Jury Report: 17-year-old indicted on rape charges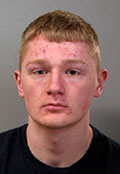 Joseph Saraceni
A 17-year-old Lindwood Avenue resident arrested last week on a forcible rape charge has been indicted by a Genesee County Grand Jury on seven more criminal counts.
Joseph A. Saraceni, Jr., is charged with two counts of rape in the first degree, a Class B violent felony, as well as two counts of sexual abuse in the first degree, a Class D violent felony, and misdemeanor counts of criminal obstruction of breathing or blood circulation, aggravated harassment and menacing 2nd.
Saraceni is accused of forcing sexual intercourse with a person Nov. 11 and Nov. 12 in the City of Batavia. He accused of forcing sexual contact on those dates. On those dates, he allegedly applied pressure to the throat or neck of another person.  In October and November, he's accused of threatening another person and communicating in a manner likely to cause annoyance or alarm.
The Grand Jury also indicted Leslie C. Jackson on two counts of grand larceny 4th, a Class D felony.  Jackson is accused of stealing property from a Batavia couple valued at more than one thousand dollars. Jackson is also accused of promising to perform home improvements for that couple and receiving more than $1,000 based on the promise.