March 5, 2014 - 10:22pm
Hawley joins call for $50 million in local bridge and road repair funds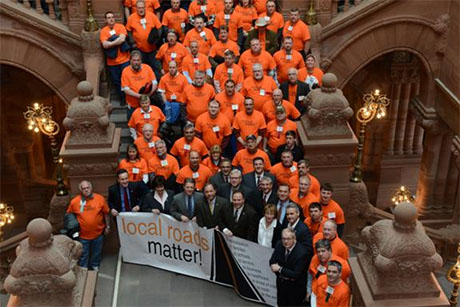 Press release:
Assemblyman Steve Hawley (R,C,I-Batavia) joined county and town highway superintendents to call for an additional $50 million in state funding to improve local roads and bridges. This funding is necessary to improve New York's deteriorating local infrastructure, and will also create jobs related to infrastructure improvements. These roads cost each New Yorker an average of $1,600 in damage to vehicles because of roads in disrepair.
"After a particularly harsh winter, the importance of having well-maintained roads has become clear. We need to make sure that our roads and bridges are safe for the people who rely on them to go about their day-to-day lives. I stand with highway superintendents across the state in saying that our local roads do matter, and proper funding is critical to keeping them safe," Hawley said.
March 6, 2014 - 7:09am
#4
That is what is known as the "Million Dollar Staircase" in our states capitol. It is carved by hand out of Medina Sandstone. It is one of our states architectural gems.