May 8, 2014 - 3:32pm
Highway superintendents statewide dealing with aging roadways and infrastructure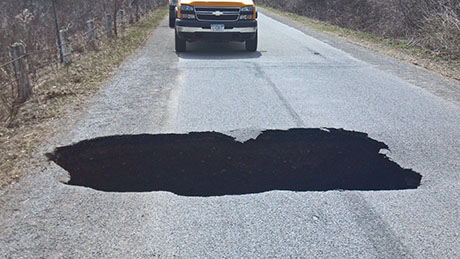 County Highway Superintendent Tim Hens sent over this picture from a roadway in Montgomery County (near Utica), saying, "it could have been worse" -- a comparison to the dramatic sinkhole incident in Byron last month.
The state's county highway superintendents are concerned about these issues and are lobbying Albany for funding to deal with aging roadways and infrastructure. Hens is currently president of the NYS County Highway Superintendents Association.
Hens also said the culvert on Byron Road has been replaced, backfilling is nearly complete and if there's dry weather tomorrow the road could reopen by the afternoon.
UPDATE 4:06 p.m.: More from Tim Hens:
Specifically we are trying to get the state to commit to a State Aid to Local Bridge and Culvert Program that would help counties repair the large number of aged and deteriorated culverts between 5 foot and 20 foot in span. The culvert that collapsed in Montgomery County is a prime example of the size of the culvert we are trying to get funded.
We have approximately 184 culverts of this size--many were built after WWII and are in need of replacement. Some are very large -- we have one on Linden Road in Bethany in the hamlet of Linden that is 19 feet 9 inches in span. It falls short of meeting federal requirements by 3 inches! It is a very large concrete arch bridge (very cool looking are actually if you are out photo hunting). It will cost at least a $1 million to replace and it will all be on the county as it does not qualify for aid. That is a big chunk for the county to finance on its own for a small bridge in a very rural area.