February 5, 2013 - 10:21am
House fire reported on Telephone Road, Pavilion
A house fire has been reported at 8029 Telephone Road (Route 20), Pavilion.
The call initially came in through Livingston County.
A resident reportedly has a back injury.
Pavilion Fire Department with mutual aid from Le Roy, Alexander and neighboring counties requested along with City of Batavia FAST Team.
UPDATE 10:26 a.m. (updates by Billie): Asbury and Linwood roads are being shut down at Telephone. Caledonia is called to provide mutual aid and stand by in Le Roy's fire hall.
UPDATE 10:30 a.m.: Mercy Medic 1 has arrived to care for the patient. Caledonia is also called for all available equipment and manpower. York is called and Engine 5 from Wyoming County.
UPDATE 10:41 a.m.: The American Red Cross is being notified that aid will be needed for the residents.
UPDATE 10:49 a.m.: Bergen is standing by in its quarters and Mumford is standing by in Le Roy's hall. National Grid is on its way to the scene. The Red Cross will be advised that the residents are one adult and four children.
UPDATE 11:03 a.m.: National Grid is on scene. Fire command says "Let's cut a hole and get this thing ventilated." They're going to cut a hole in the roof to get the heat out and fight the fire on the second floor.
UPDATE 11:14 a.m.: A relative is said to be coming to the scene to take the children elsewhere.
UPDATE 11:18 a.m.: The firefighters will soon assemble at fire command so everyone can be accounted for. Operations at this point are at a standstill. Overhaul is the next step.
UPDATE 11:24 a.m.: Everyone is asked to come away from the structure immediately. Fire command is informed that there are no explosives or ammunition inside the house. But there are sounds of something popping inside.
UPDATE 11:32 a.m.: Bergen was released from standby in its quarters awhile ago.
UPDATE 11:36 a.m.: Overhaul is under way. They are dousing hot spots.
UPDATE 11:39 a.m.: A firefighter tells command he thinks "the popping sounds are just the house settling."
UPDATE 11:41 a.m.: The Red Cross representatives are going to the scene and from there will go to the hospital where the injured person was taken, not sure which hospital.
UPDATE 11:45 a.m.: According to the fire commander, all occupants are accounted for and safe. The fire is believed to have started when a child accidentally knocked over a kerosene heater on the first floor. The father got the kids out of a window on the second floor, then jumped out, injuring his back.
UPDATE 11:56 a.m.: "We've got an excavator coming that's going to tear (the structure) down and rip it apart."
UPDATE 12:04 p.m.: Wyoming County Correctional Facility is asked to send prisoners to the scene to help out. The Le Roy Fire Auxiliary is called to provide refreshments.
UPDATE 12:24 p.m.: Help from the correctional facility will not be needed and the request is cancelled.
UPDATE: Photos submitted by Julie Matusak: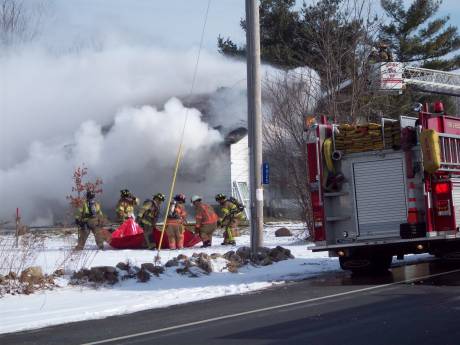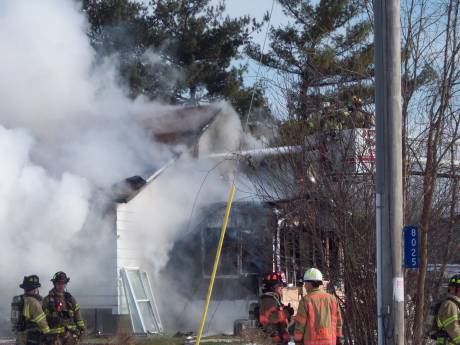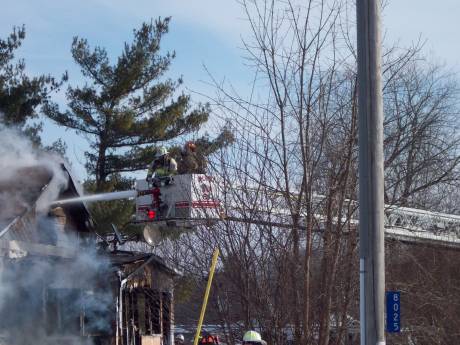 February 5, 2013 - 11:52am
#1
Howard, I am a nearby neighbor and emailed you some pics if you want to post them on the site. A lot of fire companies from nearby towns on scene. Batavia, Alexander, Stafford, Bethany, Pavilion, Leroy, Caledonia. So glad everyone got out safely! And no firefighters injured that we know of. They all deserve so much credit for fighting this fire esp. in this cold weather. God Bless them all!
February 5, 2013 - 5:53pm
#2
It should also be known that the local Red Cross is supported mainly by your local community, not so much by the national organization. All rural chapters raise their own funds, are in need of volunteeers and donations as are the fire depts here.
Glad everyone got out alive and safe.
* never a Club Member
.