November 8, 2012 - 5:29pm
Hyde's message to local business owners: Be ready for economic growth, because it's coming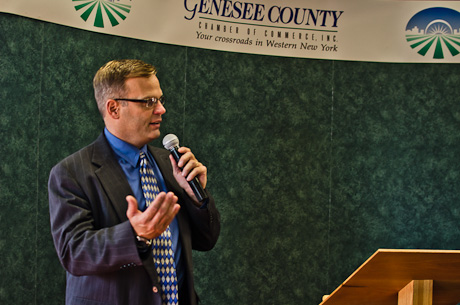 Steve Hyde was the keynote speaker today at the annual meeting of the Genesee County Chamber of Commerce.
Besides getting an update on the chamber's progress over the past year from President Lynn Freeman (bottom photo), and electing new board members, chamber members heard from Hyde about how economic development helps grow local economies.
He used Alpina and Quaker-Muller as an example of how direct jobs, indirect jobs and what he called "induced jobs" spur economic growth.
In phase one, the two yogurt factories are expected to hire 236 people.
The supply chain for the two plants -- packaging, shipping, warehouses, suppliers -- will need to create an estimated 300 jobs.
Combined, direct and indirect jobs will mean mean $13 million in wages and benefits for people working -- and presumably living -- locally.
"So you have this growing regional ecosystem and this growing element of wealth and wages that are spent by the employees and the supply chain employees and the construction workers," Hyde said. "What do they do? They go to restaurants, dry cleaning, retail, the grocery store, fuel -- 174 jobs and another $7 million."
Hyde challenged the local business owners to work with the chamber and other local agencies to prepare for growth, to be in a position to work either directly or indirectly with Alpina and Quaker-Muller, or to meet the needs of the new employees and their families.
"That's all still to be realized," Hyde said, "but my question to you as small businesses in our community: are you positioned to participate in that? Do you have the resources, the marketing, the position to scale and support growth like this?"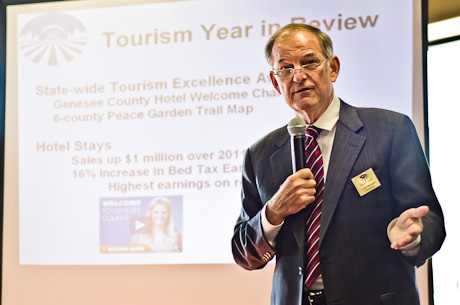 November 10, 2012 - 12:25pm
#1
Thank You Mr Hyde for bringing the surveyers, steel workers, electricians, heavy equipment operators, roofers, technicians, security guards, laborers, managers, foreman, and every other worker needed to build and expand the new Business Ag park. These workers often dine and relax at my restaurant after a hard days work. My business has increased 10 fold and my employees and my self can not thank you enough. I live with in 1/4 mile of the Pepsi wave project and all day long I hear beep,beep, beep of the construction trucks and the constant hammering of the tools. Some people may find this distracting in the neighborhood and can't wait for this noise to stop.. I CANT EITHER.. because I know when they are done your team will have brought in hundreds of employees and there families who are going to need to come to my health club, eat at our restaurants, shop on Main street and HEY.. maybe even by a bicycle from a local bike and toy shop.. again hats off to Mr Hyde and his staff!!